Top 10 Best Video Editing Software for Beginners & Professionals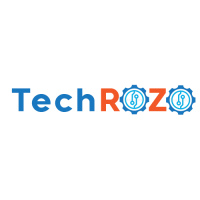 Mohammed Belkharraf
• 944 days ago
• 11 min read
---
If video isn't already a big part of your content marketing plan, it probably will be soon. Whether SEOs and content marketers like it or not, web content is shifting toward video. In the coming year, nearly half of advertisers will add YouTube and Facebook platforms for video distribution; one-third of all online activity is spent watching a video, and video will account for more than 80% of all internet traffic by 2019. 80% of the time!
Are you a novice? Don't know how to edit videos, don't have a video studio, or don't have a real video expert to film and edit your features? It's all right! The aim of today's blog is to show you that, regardless of experience, you can create elegant, professional video content and keep your content strategy ahead of the curve with the right video editing tools.
Let's get started! here are our recommendations for the top 10 best programs of video editing software or best video editor apps for beginners & Professionals(in this list you will see also some tools of video editing online).
1. Nero Video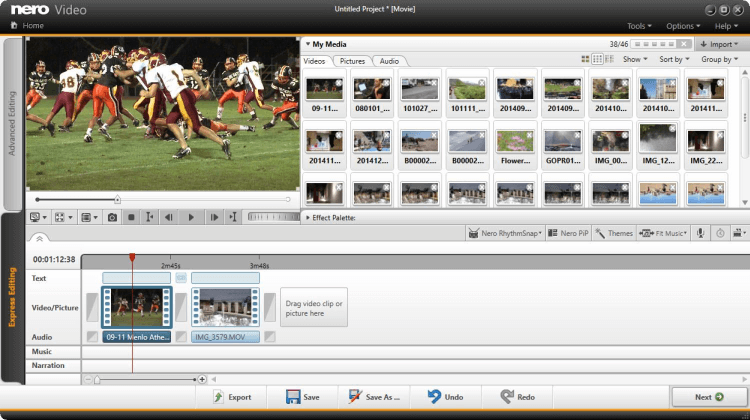 Nero Video Editor for PC ($49.99) is one of the less expensive choices on this list, but it holds its own—it includes many of the tricks and effects found in other apps competing for video editing dominance, and as far as software for beginners goes, you can't do much worse. However, if you're going to spend money on learning how to edit videos, you may want to avoid it.
Nero Video Editor lacks the speed and functionality of some of the other items on this list, and if the price is the value proposition, $50 is still not cheap.
Nero Video has many editions like Nero video ultra edition, Nero video ultimate edition..., They have also a Nero video portable version if you are a fan of portable apps.
Helpful Links:
Standout Features: Low pricing
Pricing: One-time payment of $49.99
2. Corel VideoStudio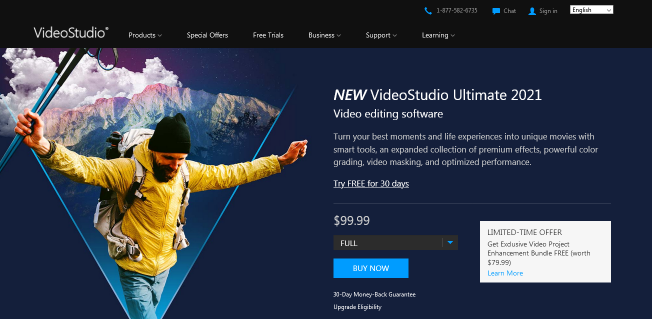 Corel VideoStudio Video Editing Software has all of the features of the other top-of-the-line products on this list, including 360-degree VR and 4K support, but it also has the distinction of being the first piece of consumer video editing software to offer motion tracking—a feature that allows you to track specific objects during your cut if you're not already familiar with it (if you wanted, say, to point an arrow at one of your characters, blur out his face, or bestow him with a funny hat).
While most of the items on this list include motion tracking, Corel VideoStudio still has one of the best motion tracking systems on the market.
The price is very cheap to get The Corel VideoStudio Full Version that includes all features.
Standout Features: Motion tracking
Pricing: One-time payment of $99.99(Ultimate) - 79$ (Pro)
3. Wondershare Filmora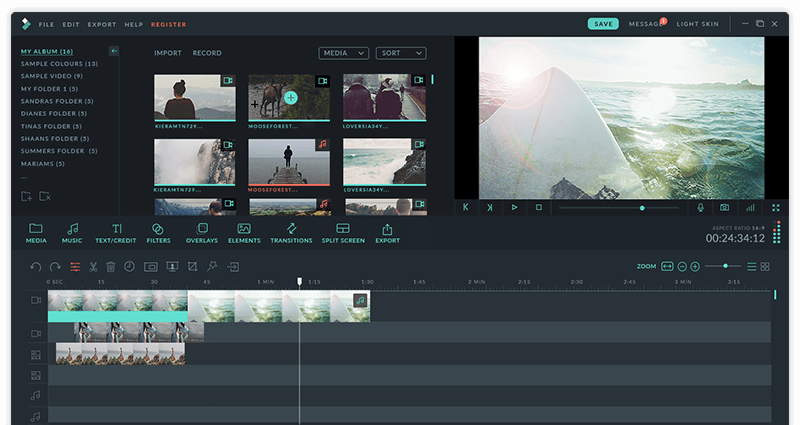 Wondershare Filmora is just as versatile as it gets when it comes to video editing applications. Filmora is Wondershare's standard, quick, high-quality video editing software; however, FilmoraGo (for mobile editing) and Filmora Scrn are also available (for screen recording and editing). Filters, overlays, motion components, transitions, and a limited range of royalty-free music are all included in the interface, which is intuitive and simple to use. Here are a few more "basics" that Filmora has to offer: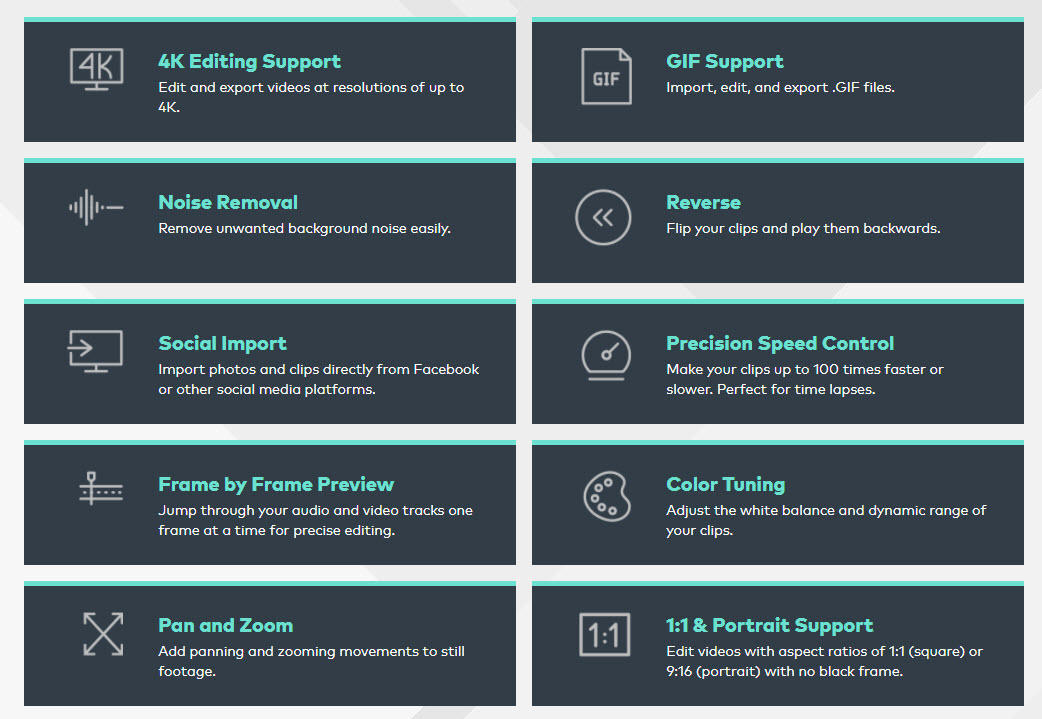 4K and gif support are standard features in today's video editing software, but Filmora excels at titles. Although Filmora's title tool doesn't have the simplicity of, say, an Apple Final Cut Pro X, which can superimpose 3D titles over your videos and rotate them on three axes, it does have some snazzy titling features for the money you're spending.
"Easy Mode," which allows you to make fun, polished edits by simply dragging and dropping images, choosing a theme, and selecting music, is another Filmora feature that beginners to video editing would find appealing.
The price of the Wondershare Filmora full version is very cheap, In exchange for it you will get one of the best video editor apps or softwares in the past years and for now.
Standout features: Title tool; mobile and screen editing; "Easy Mode"
Pricing: Starts at $59.99 for a lifetime license; or, $39.99 for a year.
4.CyberLink PowerDirector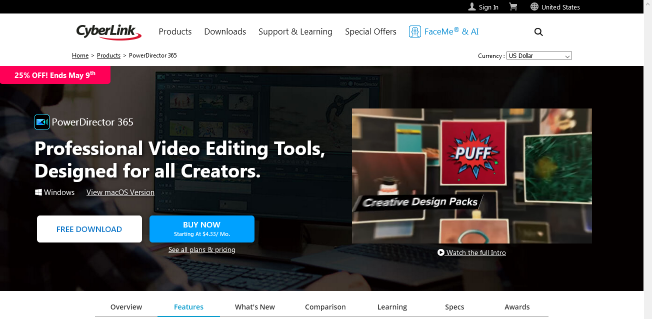 So, we've already stretched the definition of "software," and now we'll stretch the meaning of "beginner." We included CyberLink PowerDirector on this list because, at the end of the day, it has a simple GUI. You'll be fine if you go to the product page and follow the tutorials. The GUI, on the other hand, is veritable It can be daunting if you aren't able to put in the time to understand all of them.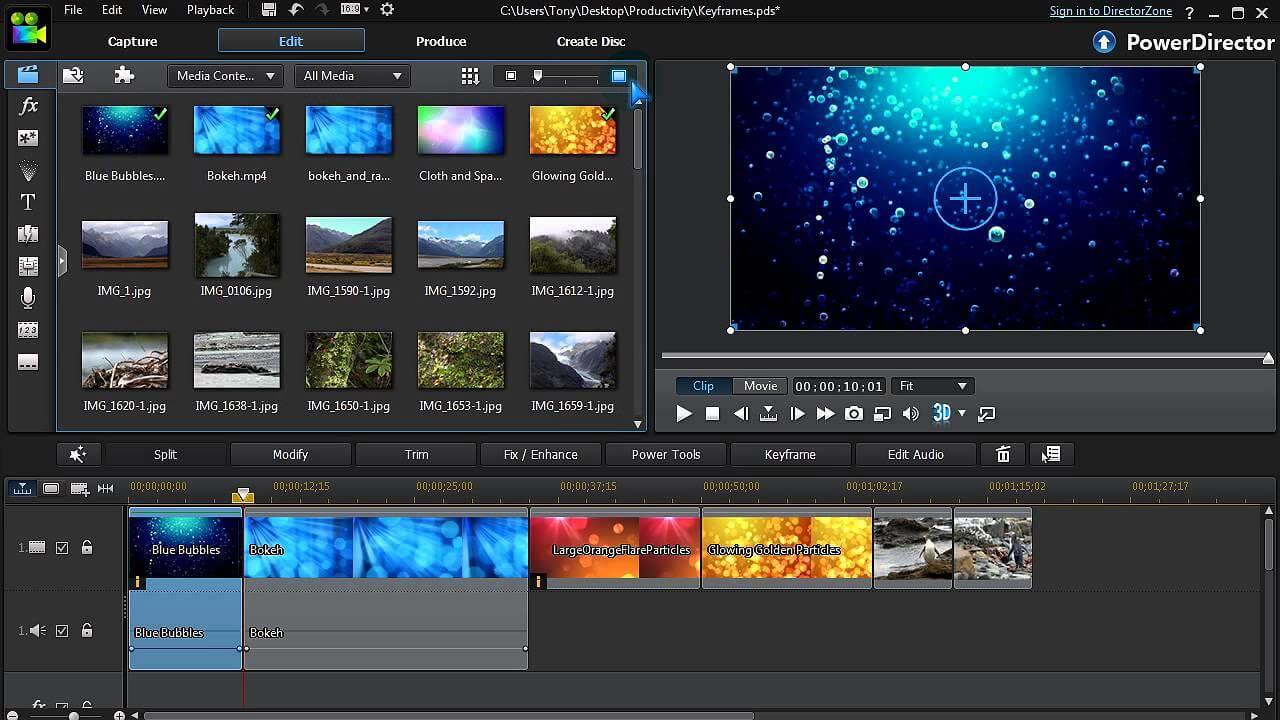 Cyberlink PowerDirector program is one of the fastest video editing devices on the market when it comes to rendering. It also regularly works in the field of innovation and cutting-edge technology. PowerDirector Pro was one of the first devices to embrace 360-degree virtual reality video, and it led the charge in the transition to 4k.
You get what you pay for when it comes to price! Unlimited access to one of the most capable pieces of video editing tools is available for $79.99.
They have also a Cyberlink PowerDirector Portable Version if you are a fan of portable apps.
Standout Features: Lightning-fast rendering; a comprehensive suite of effects
Pricing: One-time payment of $79.99
5. InVideo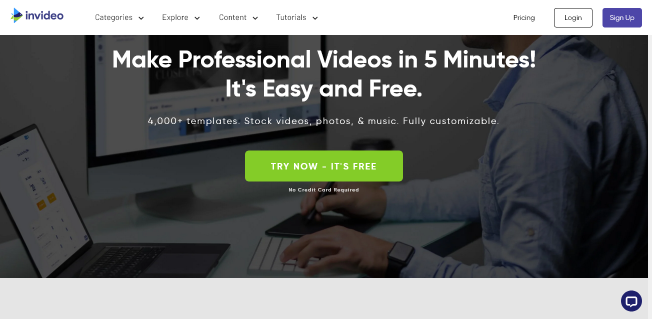 InVideo is unique in that it is entirely hosted in the cloud. You'll never have to worry about downloading apps or losing your development. It's entirely browser-based, and the editor performs admirably even after being crammed with transitions, stickers, photos, and other gimmicks.
Beginners can get a head start by using any of the 4000+ templates available on the platform, while experienced users can start from scratch. The 8 million+ images in the iStock library can also be used to spice up your designs.
Even if you're on the Free plan, InVideo's videos don't have a watermark. If you're starting out and not looking to spend a ton of money on software, InVideos is a great bet!

Helpful links :
InVideo chrome extension (just from Chrome store search for Invideo)
Standout Features: No Watermark, 4000+ templates, and 8Mn+ iStock Images & Videos
Pricing: $15/Month for the Business plan, and $30/Month for the Unlimited Plan.
6. Pinnacle Studio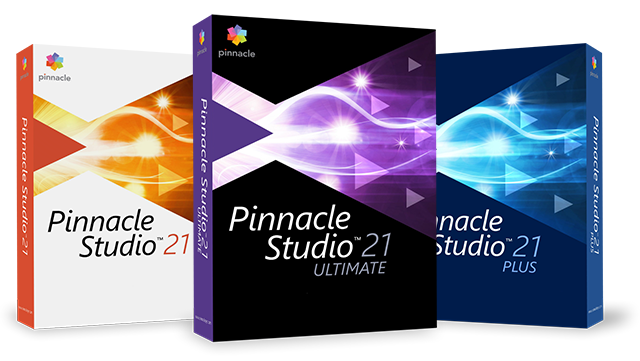 Corel Pinnacle Studio, which costs more than twice as much as VideoStudio at $129.95 (the price you'll need to pay to edit 360-degree and 4k content for the "Ultimate" version), is at the top of the Corel product list. What are you going to do with the extra cash? Not only does Pinnacle have all of the features you'd expect from a top-tier product—motion tracking, 360-degree VR support, 4k support, multi-cam, and so on—but it's also one of the fastest rendering products on the market.
Pinnacle's interface is still as user-friendly and intuitive as any on this list, despite all of its features. As a result, if you have a need for pace and are willing to pay a premium for it, Pinnacle might be the product for you.
One of the best versions of Corel Pinnacle Studio is Pinnacle Studio 23 Plus, just tape it on google or youtube and you will see the number of videos & reviews about it.
Standout Features: Top-of-the-line rendering speeds; a full range of features and support
Pricing: One-time payment of $129.95
7. Camtasia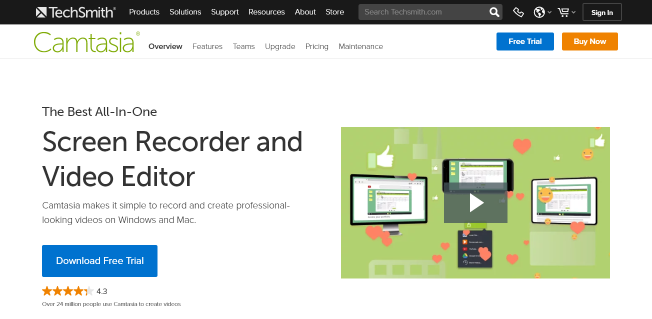 Camtasia Studio is best known for its screen recording capabilities, but it also has powerful video editing tools.
It's ideal for making YouTube tutorials, online course lectures, how-to guides, product reviews, and more thanks to its combination of screen recording and editing resources.
You'll find a library of video models that you can use to quickly make the video you want.
The procedure for editing videos is very simple. Simply drag and drop your video into the editor to easily edit it and add animations and transition effects.
There's also a PowerPoint integration to help you make engaging presentations and tutorials. You can also add fun interactive features to your videos, such as quizzes.
You can record videos on your phone with the iPhone app and then edit them with the program. If you're making smartphone tutorial videos or walkthroughs, this is ideal.
Camtasia for windows 7 / 8 / 10 & Mac provides a $249.99 individual package that includes all features.
8. Promo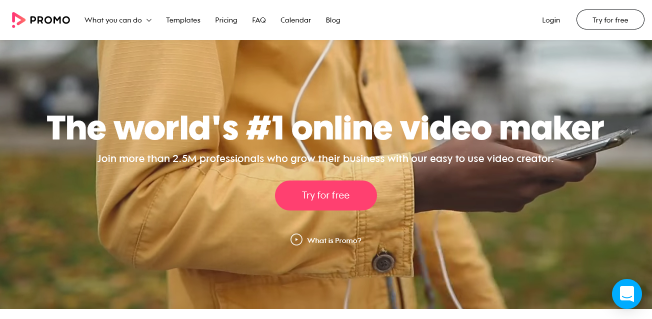 Promo is a fantastic online video editor that's ideal for creating promotional images. It's extremely simple to use. Even if you're not tech-savvy, you can quickly and easily create promotional material.
This method is for you if you're having trouble coming up with Instagram video ideas or video advertising for Facebook and YouTube.
It just takes a few clicks to make an entertaining video that can be shared online. It's a breeze.
All you have to do is choose your campaign form or industry, choose one of the 5 million models, and then customize the animations, video clips, and text to suit your needs. You can also keep track of your progress in real-time.
The company, real estate, marketing, travel, eCommerce, and hiring, and HR are just a few of the industries where templates can be found in Promo.
Furthermore, specialized models for marketing tasks such as promotional videos, Facebook advertising, Instagram ads, YouTube ads, and LinkedIn ads are available.
You can start from scratch with a blank prototype if you want more creative power.
The most affordable package is the Basic plan, which costs $49 a month.
If you make a lot of marketing videos, the Standard package for $99 per month offers you unlimited premium clips and video downloads, as well as the ability to add a watermark to your videos.
You can also make videos on the go with the premium plans, which provide access to an iOS or Android smartphone app.
9.Blender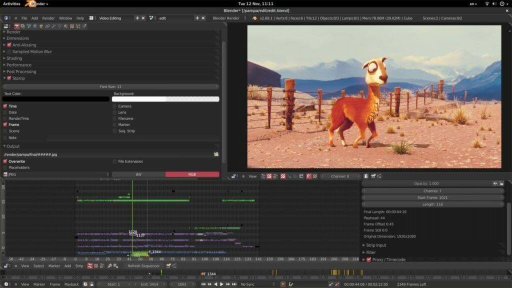 Blender, one of the best free video editing programs available, is compatible with Windows, Mac OS X, and Linux.
Blender Video Editing Software is a completely free-to-use open-source software. The program was created as a 3D animation package, but it also includes a fantastic video editor. The video editor in Blender should suffice for the majority of your video needs.
Basic editing functions, such as video cuts and splicing, are available in the editor. It can also be used to perform more complex tasks, such as video masking. As a result, it's a very versatile video editor that can be used for both novice and experienced users.
using blender for video editing is a great opportunity to make your videos more attractive and professionals.
The following features are included in the Blender Video Editor:
Displays include a live preview, luma waveform, chroma vectorscope, and histogram.
Waveform visualization, audio blending, syncing and scrubbing
There are up to 32 slots available for video, photographs, audio, and effects.
Speed regulation, adjustment layers, transitions, keyframes, and filters are only a few of the features available.
Blender video editing export your videos in many formats like MP4, FLV.....
Pros: Ideal for experienced users who aren't put off by the abundance of options.
Cons: Because of the large number of functions, the learning curve is a little steeper. The majority of the tutorials are geared toward 3D animation and modeling. The number of tools available to assist you with the video editor is extremely limited.
10.Lightworks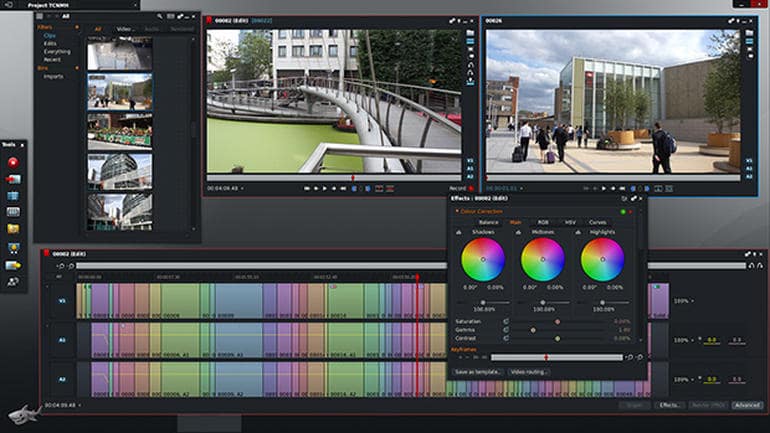 Lightworks is yet another excellent free video editing software that runs on Windows, Mac OS X, and Linux.
There is no difference between Lightworks ubuntu(or Lightworks Linux) & Lightworks Windows versions, the same GUI and interface, the same features.
One of the more strong video editors on the list is Lightworks. It's jam-packed with useful features. Most users should be able to get by with the free version.
The free edition of Lightworks includes High-precision video trimming.
Support for several cameras.
For YouTube, export to 720p.
Support for a wide variety of video formats.
Although the majority of features are included, 4K video support for YouTube and Vimeo is only included in the software's paid edition, which costs about $25 a month.
Lightworks Full Version, in comparison to Blender, has a lot of excellent video tutorials that can help you get up and running quickly. Check out this feature comparison to see if the free edition includes anything you want. If the free version does not suit your needs, you might want to look into one of Lightworks' paid video editing services.
Pros: Extremely powerful video editor with a plethora of advanced features.
Cons: Only the paid version supports 4K video. Lightworks could be too advanced for certain users.
Some Final Thoughts
Are you a content or social media marketer interested in learning how to edit videos in order to keep up with the growing video trend? Don't be concerned! For a novice, either of the above tech apps would be a good option.
Consider your budget, current level of experience, and the amount of time you're willing to invest in learning a new ability. If you're searching for the right video editing tools for YouTube or you've been tasked with getting your team's video marketing campaign up to par, don't waste time debating! Make one of these video editing items yours by investing in it.