10 Best Screen Recording Software Programs in 2021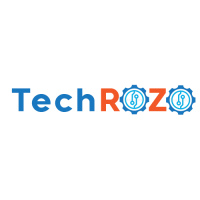 Mohammed Belkharraf
• 879 days ago
• 11 min read
---
It used to be difficult to record a computer, to get things done, you had to either use complicated tools or pay a tech professional, which wasn't always possible.
Fortunately, screen recording software has become significantly more user-friendly over time. You can now make professional-looking tutorials with very little effort.
Aside from tutorials, there are a variety of other reasons to record your computer.
If you do some kind of product demos, need or provide technical assistance, or use video calling, your computer's default screen capture will not be sufficient to capture high-quality footage.
A high-quality screen recorder would serve the function if you want a more accurate way to record the entire screen or only a portion of it.
This article will teach you about:
What screen recording software is
The features you should look for in screen recording software
The difference between desktop and online screen recorder
The 10 best screen recording tools in existence
What Is Screen Recording Software?
The entire (or portions) of your computer or mobile screen may be recorded using screen recording software.
Anything from your taps and cursor movements to typing a URL into your browser can be recorded to help others learn what to do and how to do it.
Audio narration is available, and annotation is often included in a tool's kit.
Screen recording software, on the other hand, is not always the same. Some screen recording software does not allow you to save the captured footage in a variety of formats or directly upload it to common video platforms like YouTube.
Others may be able to do all of that, but they may be lacking one or two features. Not every screen recording program, for example, has an HD screen recorder.
As a result, before downloading or installing screen recording software on your computer, you should consider its capabilities.
It's also important to assess your own recording requirements. It's possible that you won't need to record in HD. Perhaps you've just purchased video hosting and don't need the YouTube export function. The best screen recorder for you is one that caters to your unique requirements.
What Is a Good Screen Recorder?
Our selection of screen recording applications includes everything from browser-based software to simple desktop apps. Each selection meets the following basic requirements:
Is it easy to use?
The entire screen, a specific region, or a single window is recorded.
Allows users to annotate captured video.
Audio from the device and microphone is included.
Captures video from a variety of sources.
There is export options built-in.
It's also worth noting that many of the software choices have HD recording features. It's important to note, however, that HD files take a long time to upload. HD isn't necessary if you only want to upload standard-quality videos to the web quickly.
Desktop Screen Recorder vs. Online Screen Recorder
The main distinction between the two forms is offline capability.
Although desktop screen recorders can function without an active internet connection, online screen recorders need a steady internet connection.
This is why using an online screen recorder to capture gameplay isn't the best choice. However, if all you want to do is make a tutorial, they should suffice.
Top 10 Screen Recorder Tools for 2021
The best screen recorder tools on the market are listed below.
You will be sure to find the best screen recorder for Android, iOS, Mac, Linux, and Windows operating systems since it has options for all of the major operating systems.
Quick note: The collection contains both paid and free apps, so consider your needs before installing them.
1. OBS Studio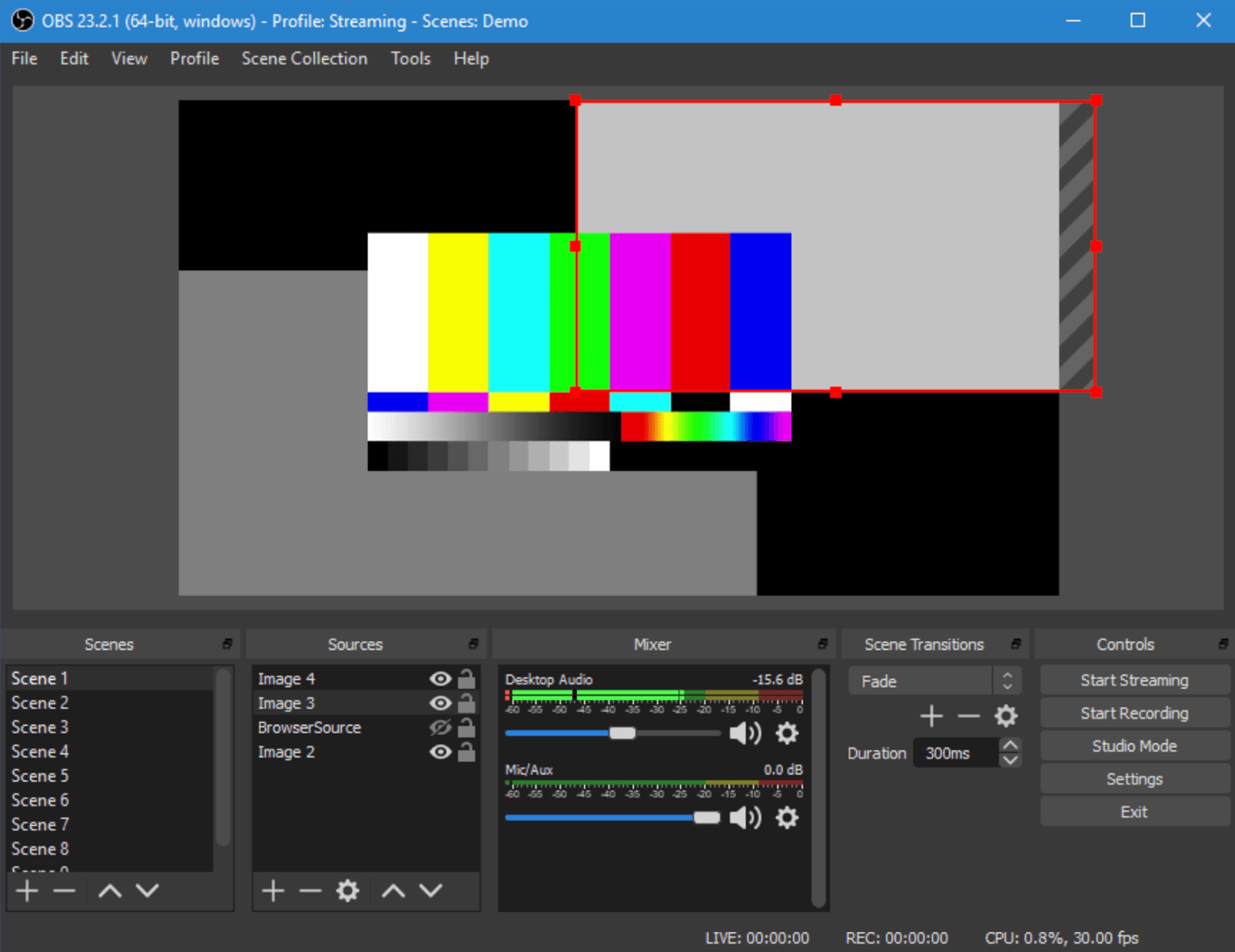 OBS, or Open Broadcaster Software, is a free screen video recorder that allows you to capture and stream high-definition videos with no time limits.
You can select which part of the screen you want to capture with the desktop app, but you can also record the entire screen.
Customizable hotkeys make it easier to monitor the recording, and an audio mixer lets you create videos with a smooth sound.
OBS has live-streaming capabilities that you won't find in the default screen recorders of major operating systems, in addition to the intuitive screencasting functionality.
You can live stream on Twitch and YouTube Gaming, save ventures, and convert your footage to FLV format.
OBS is one of the best free screen recording software choices to explore in 2021 because of all of this.
Price: Free
Supported OS: Linux, Mac, Windows
Best for: Professional live streaming to Mixer, YouTube or Twitch
2. Apowersoft Unlimited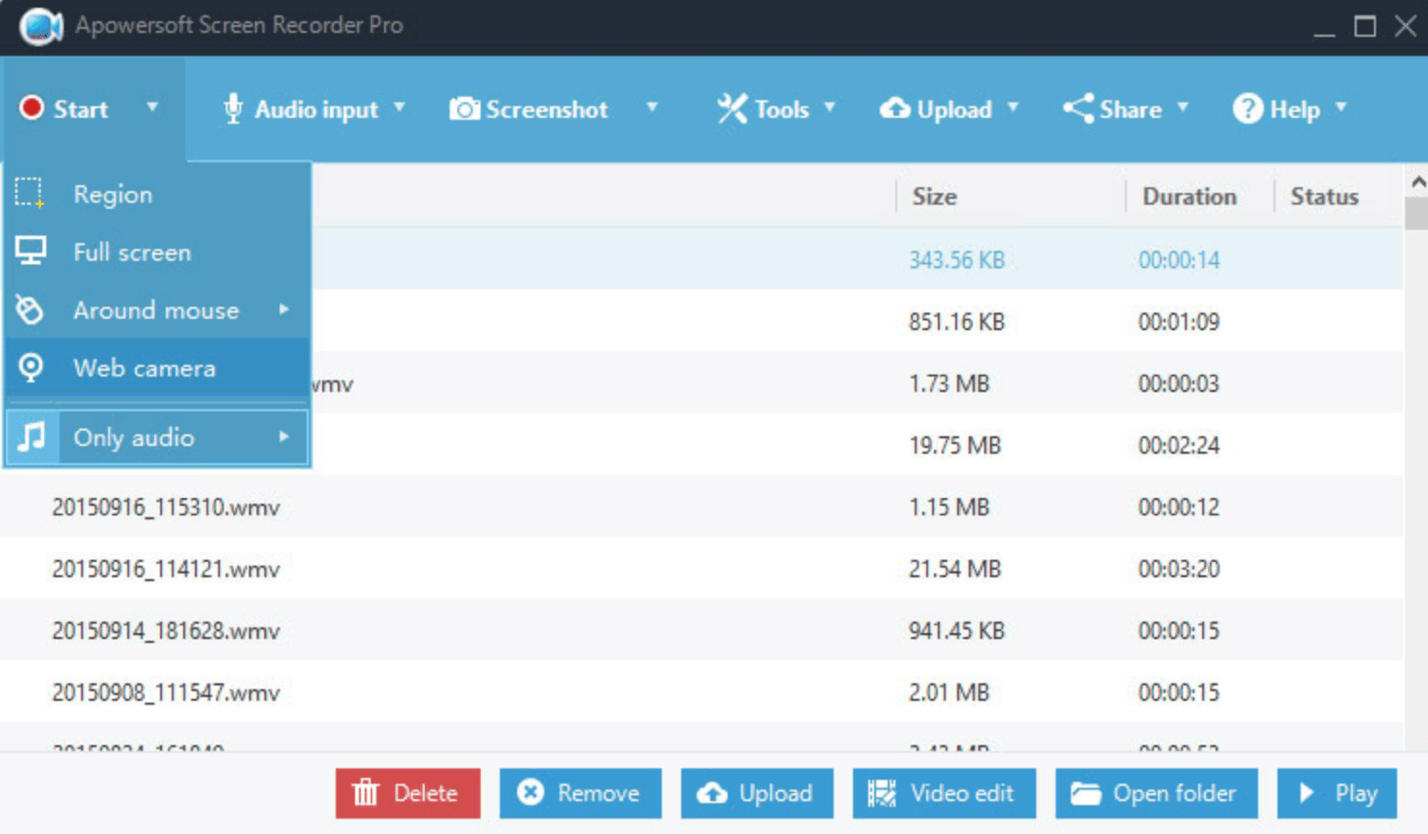 Apowersoft Unlimited is a collection of apps that includes screen recorders for Android, iOS, Mac OS X, and Windows.
It allows you to cast an Android or iPhone screen to your PC and use the desktop recorder to simultaneously record your PC audio, mobile device microphone, and computer's webcam.
The desktop screen recorder supports a variety of recording modes, including full screen, custom area, and more, as well as real-time annotation. You can use callouts, lines, text, and other features without pausing.
Simply connect your device and smartphone to the same WiFi network and start casting with the aid of its intuitive, mobile-specific software.
Users of Mac and Windows can use the desktop screen recorder to capture a variety of on-screen events.
Price: $59.95 per year
Supported OS: Android, iOS, Windows, Mac
Best for: Demonstrating how to use software that has both a desktop and a mobile version
3. Screencast-O-Matic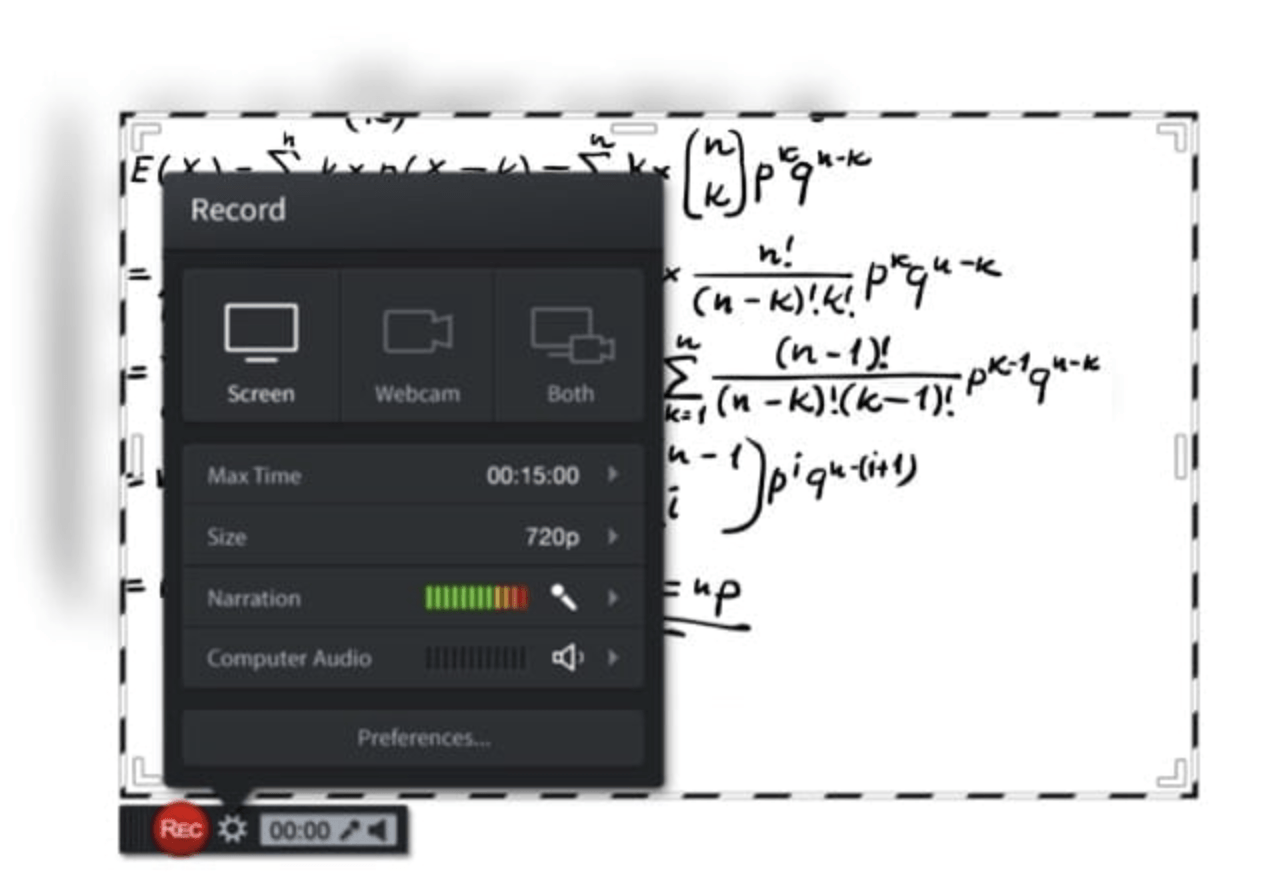 Webcam and screen recordings are supported by Screencast-O-Matic, an online screen recorder and video editor.

Although the app does not support recording in HD, it does support recording in 800600, 640480, and other standard definitions, making it suitable for recording and uploading short videos.

It also allows users to zoom in on video files, draw on them, and add overlays.

Plus, you don't need to download any desktop software to upload the recording to YouTube.
Additional features of Screencast-O-Matic include the ability to edit machine audio and synchronize recording with video footage.
Keep in mind that the paid edition of the software includes the majority of the editing tools. The free edition, on the other hand, can be used to upload videos to YouTube.
Price: Free or $1.50 per month
Supported OS: Windows, Mac, Chromebook, iOS
Best for: Making quick tutorials to share with friends, customers or online communities
4. AceThinker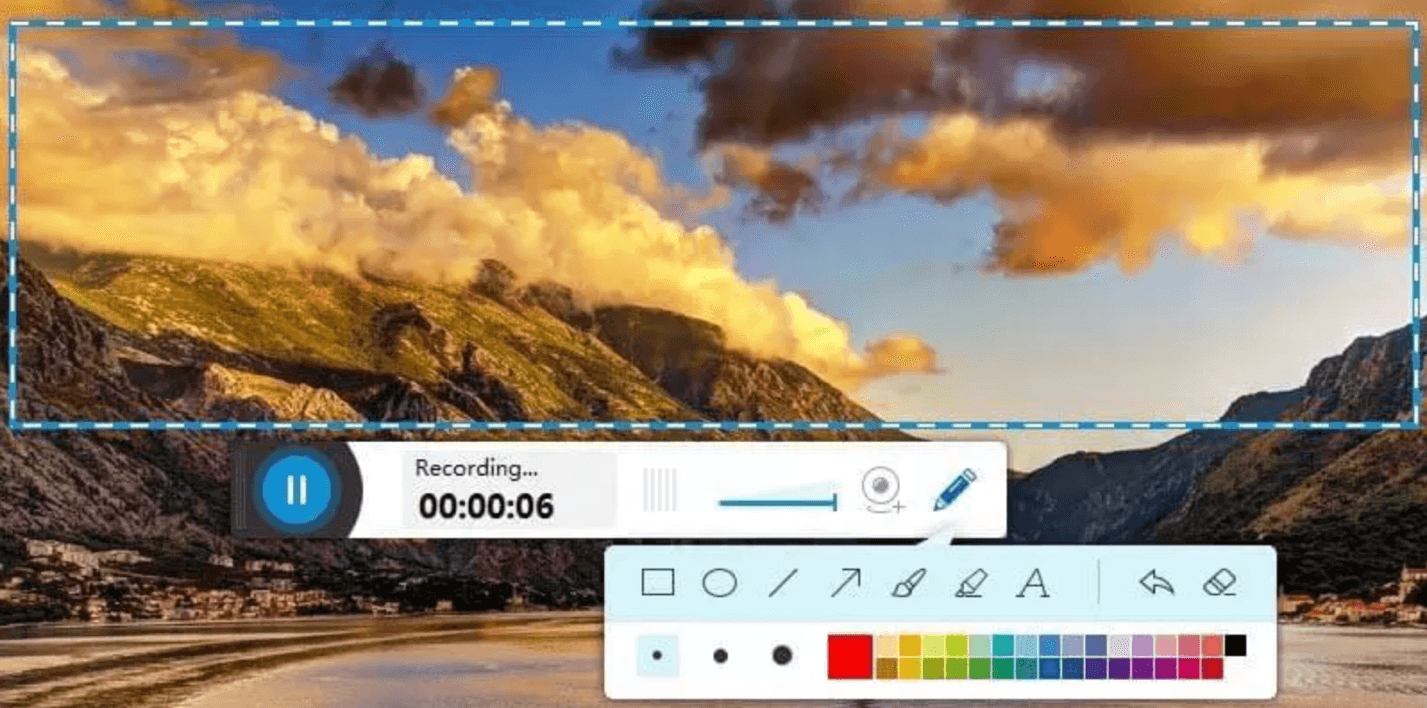 AceThinker is simple to set up and use a web-based laptop screen recorder.
You can use it to record a particular screen portion or the entire screen, make real-time edits for a more engaging recording, and simultaneously capture audio from your microphone and monitor.
You can convert and save your recordings in a variety of common video formats, including MP4, MOV, and API.
You can also directly upload your recordings to Dropbox, Google Drive, or YouTube using AceThinker.
Both of these features are included in the free version of the app, but you can upgrade to the PRO version for extra functionality.
The PRO version's highlight feature is the ability to build scheduled screen recording tasks.
If you want to record a live stream in the afternoon but don't have access to the internet at work, you can install this screen capture app on your home computer, set a schedule, and let it do the work for you.
Price: Free or $39.95
Supported OS: Mac, Windows
Best for: Recording soccer matches, stock trends, etc.
5. ScreenFlow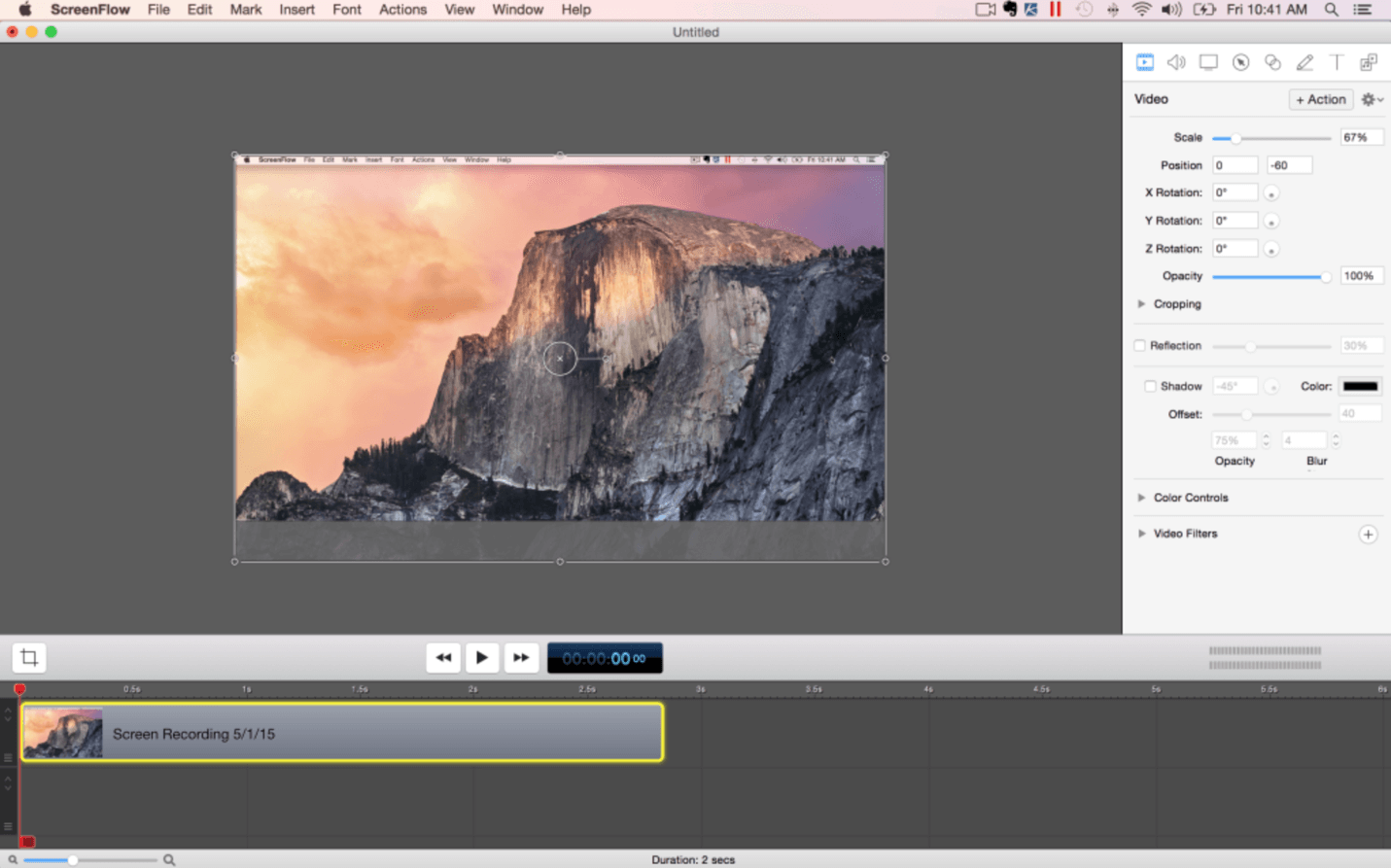 If you're looking for a Mac screen recorder that can also capture audio, ScreenFlow is the app for you.
It has the ability to record your Mac at retina resolution, community video components, and settings, and add background audio to the captured footage, among other things.
You'll also appreciate the software's "Styles" and "Templates" functions.
For a captured chapter, Styles allows you to save visual/audio settings for specific elements such as drop shadows or color filters.
Templates, on the other hand, enable users to plan ahead of time how they'll organize, insert, and customize groups of annotations like text placeholders and outro segments.
Subscribers to ScreenFlow's Super Pak plan (which is more expensive) also get access to over 500,000 exclusive photos and audio clips to use in all of their videos.
ScreenFlow is unlikely to fail if you want to get the most out of your screen recordings.
Price: $129
Supported OS: Mac, iOS
Best for: Making high-quality retina videos
6. Camtasia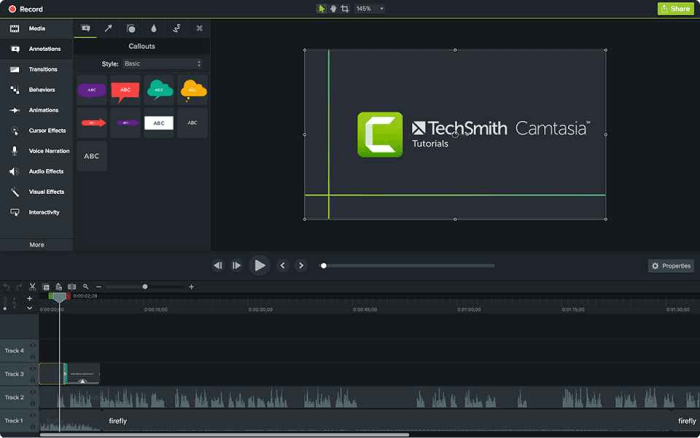 Camtasia is a feature-rich tool for those who value accuracy. It enables you to record video and audio one after the other and then combine the data. In terms of using animations and video effects, as well as incorporating overlays, Camtasia is very versatile. Its ability to create and add quizzes and interactivity to videos sets it apart from other screen capture applications.
Advantages
It has a webcam built-in.
Separate tracks for audio, video, and cursor can be edited.
Existing images, songs, pictures, and PowerPoint slides are imported.
Captions, callouts, and quizzes can be added to your videos.
Editing on a frame-by-frame basis
Has sound effects and a music library that is royalty-free.
Cons
One of the priciest screen recorders on the market.
Big and heavy ventures are said to be slowing down.
Multi-track interface with a lot of activity
Price: $129 or Free 30 day trial
Supported OS: Mac, Windows
7. Bandicam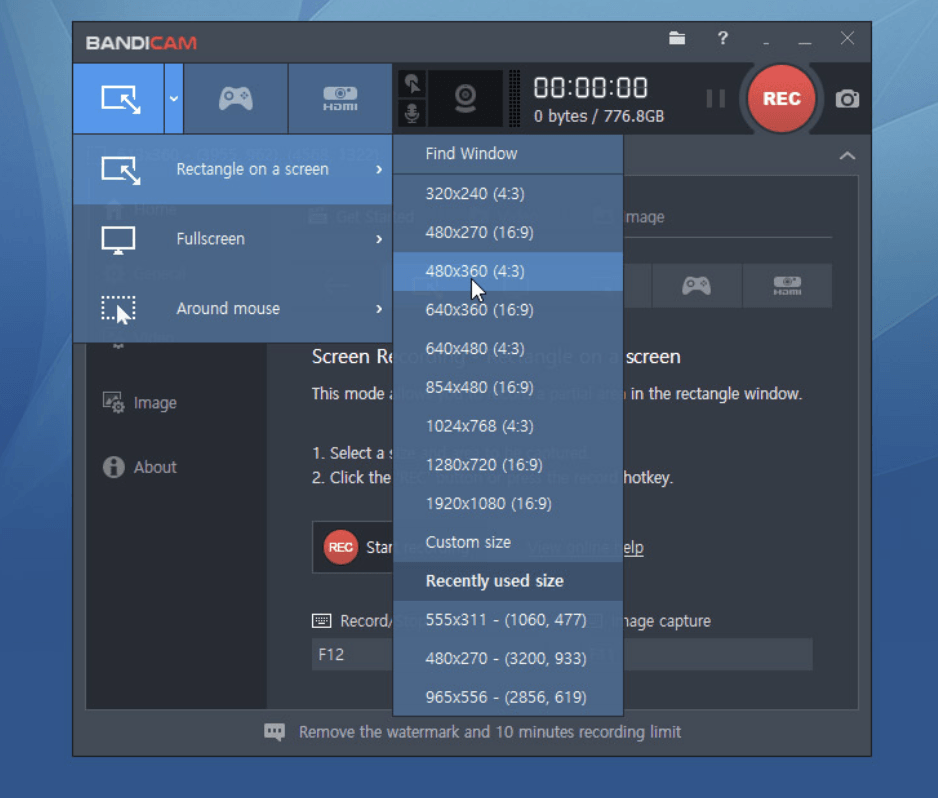 Bandicam is a powerful screen recording program that can capture both the screen and gameplay.
It makes use of a high compression ratio while maintaining video quality. With Bandicam, you can shoot 4K ultra-high-definition videos at 120 frames per second.
The computer recording capability of Bandicam is another noteworthy feature. You can record videos from IPTV, HDTV, APPLE TV, tablet, PlayStation, and Xbox with a separate capture card.
Users can also take screenshots in JPEG, PNG, and BMP formats with Bandicam.
You can basically record everything with Bandicam, including your entire computer screen, Excel spreadsheets, web browser, Powerpoint presentations, and more.
Its free edition has a watermark on the videos, so you'll need to upgrade to a paid account to get the most out of it.
Price: Free or $39.99
Supported OS: Windows
Best for: Balancing the depth of video recordings
8. Filmora Scrn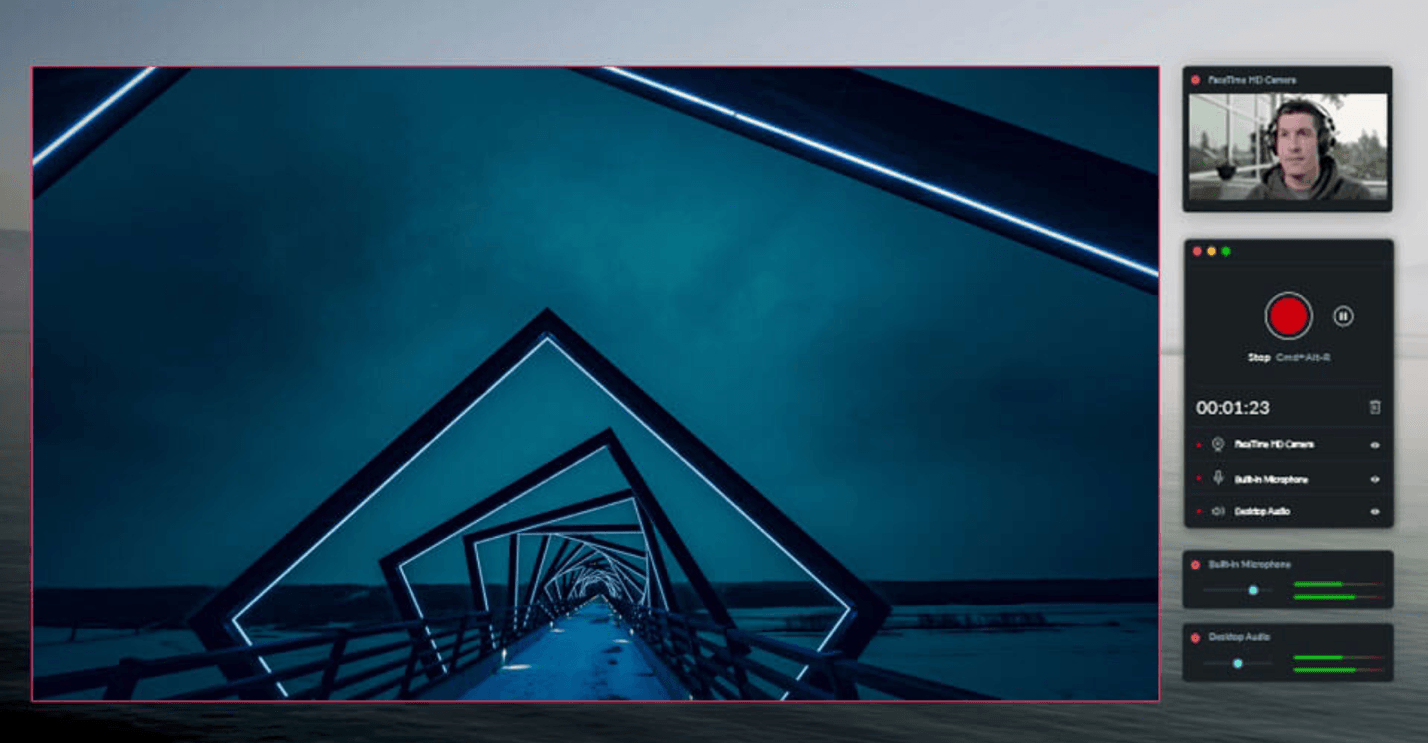 Filmora Scrn allows you to record gameplay, webcam, computer screen, and audio all at the same time, with no time constraints.
It allows you to film at 15 to 120 frames per second. A higher frame rate is perfect for capturing action-packed gameplay.
You may also use the app to add text annotations to enhance the audience's viewing experience. You can also change the scale, color, and shape of your cursor to make it stand out.
You won't need a separate video editing app with Filmora Scrn because the screen recording program includes a variety of editing tools to help you fine-tune your recordings.
It can import files in over 50 different formats, and you can export your recordings in various formats depending on your needs.
Price: Free or $29.99
Supported OS: Windows, Mac
Best for: Recording screen from two devices simultaneously
9. Movavi Screen Recorder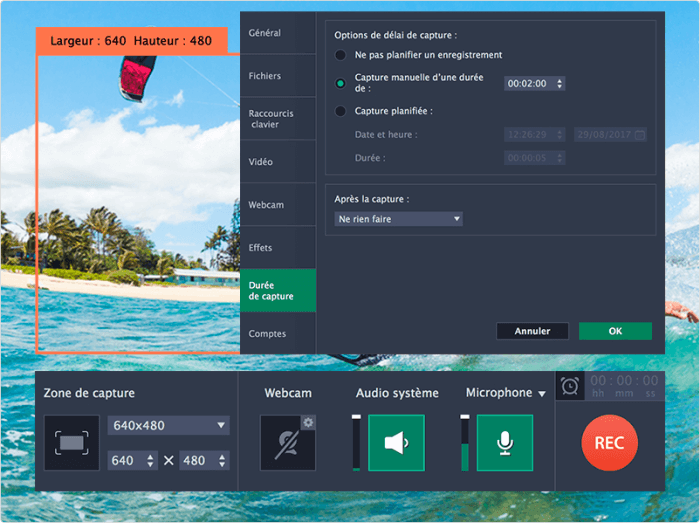 Movavi Screen Recorder is a simple screen capture tool that lets you capture webcam and audio, save recordings as videos and GIFs, and take screenshots. You can save your recordings to Google Drive or YouTube and then share them with your audience via social media.

Pros of Movavi Screen Recorder
Contains a webcam
It's possible to record both the screen and the audio at the same time or separately.
Saves video in high definition and supports a variety of formats: AVI, MP4, MOV, and MKV are some of the most common video formats.
Takes and updates screenshots.
Allows for recording on a regular basis.
In the recording, the mouse is visible.
Cons
There isn't a built-in video editor; you'll have to use third-party software.
The trial version has a 5-minute recording time limit.
Price: $39.95 for 1 PC. Free 7-day trial.
Supported OS: Mac, Windows
10. ActivePresenter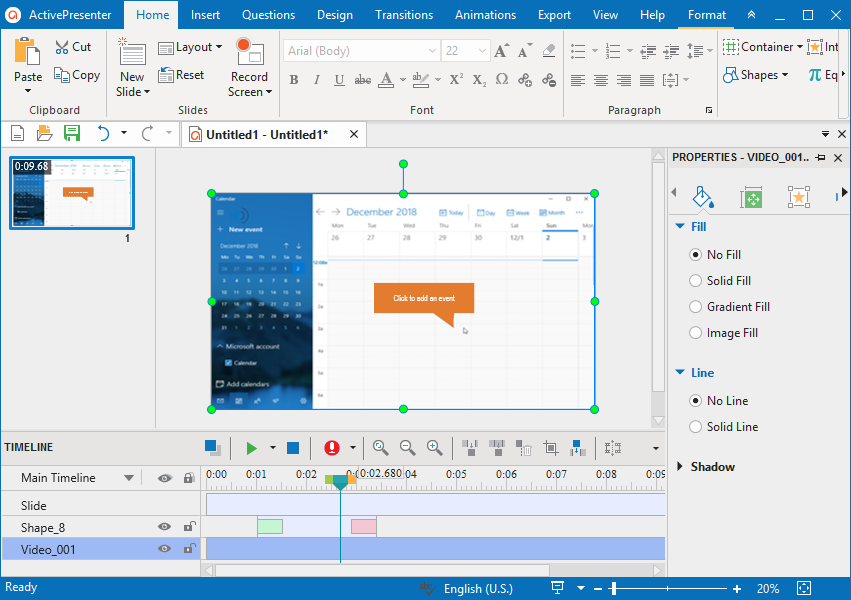 ActivePresenter is a screen recorder and video editor in one. YouTubers, content makers, instructors, and trainers who are looking for video demos, how-to guides, and step-by-step tutorials love it the most. ActivePresenter has almost all of the features and effects necessary for screen recording and video editing.
When using free features, the free edition of ActivePresenter does not have a watermark. You can try out all of ActivePresenter's features without any limitations in terms of functionality or time. After the recording has been captured, you can trim, cut, and break it, adjust the speed and sound, add closed captions, annotations, and animations, and more. When you upgrade to the paid versions, more advanced audio and video editing features are available to create impressive videos and software simulations.
Advantages
Fullscreen, window, area, webcam, microphone, and machine sound can all be recorded.
Include a video editor that can be used to edit both recorded and imported files.
Trim, cut, break, adjust speed/volume, add closed captions, zoom-n-pan, annotations, multimedia, transitions, animations, and more are all basic video editing features.
Blur effect, green-screen effect, audio fade in/out, noise reduction, and audio normalization are all advanced video editing features.
Automated annotations are used to record machine simulations.
There is no time limit and there are no advertisements.
Cons
It is not permitted to schedule recordings.
While there is a workaround, there is no video cropping feature.
Only 64-bit is supported.
Price: 199$/License
Conclusion
Screen recording software can be used for a variety of tasks, and the best ones don't always have to be expensive.
A free screen recorder can be able to help you achieve your goals, depending on your specific needs and the operating system you're using.
You can always upgrade to a paying option if you want more power or access to advanced editing software.
Hopefully, one of these screen recording applications would meet your needs, whether you're making a YouTube tutorial or simply sharing a gaming accomplishment with your mates.
Do you have some great screen-recording apps that we didn't mention? Please let us know in the comments section below.