AWeber vs GetResponse — Which Tool Is Right For YOU In 2022?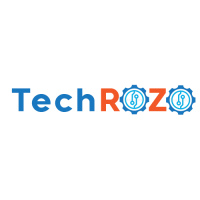 Mohammed Belkharraf
• 503 days ago
• 7 min read
---
If you're looking for the best email marketing software for powering your campaigns, you might be comparing GetResponse vs AWeber.
Email marketing is still one of the most valuable marketing strategies, offering a typical return on investment of 4200%, or $42 for every dollar spent. That's even after the rollout of stringent new privacy regulations like Europe's GDPR and California's CCPA.
Simply put, trust in email marketing is higher than ever, especially when compared to social media and the uncertainties around it. At least 80% of small businesses rely on email as their primary method of customer acquisition and retention.
However, to make email marketing work for your business, you can't expect to rely on manual processes when you have a rapidly growing subscriber list.
With a software-as-a-service (SaaS) email marketing tool like GetReponse or AWeber, you can be in the best position to manage your subscribers and build tailored campaigns that drive success.
GetResponse is a marketing software tool that provides integrated email marketing, autoresponders, and landing page creation to let users automate essential marketing tasks and launch effective marketing campaigns. Its features include advanced analytics to track conversions, leads, and ROI, customizable templates, marketing workflow automation, and more.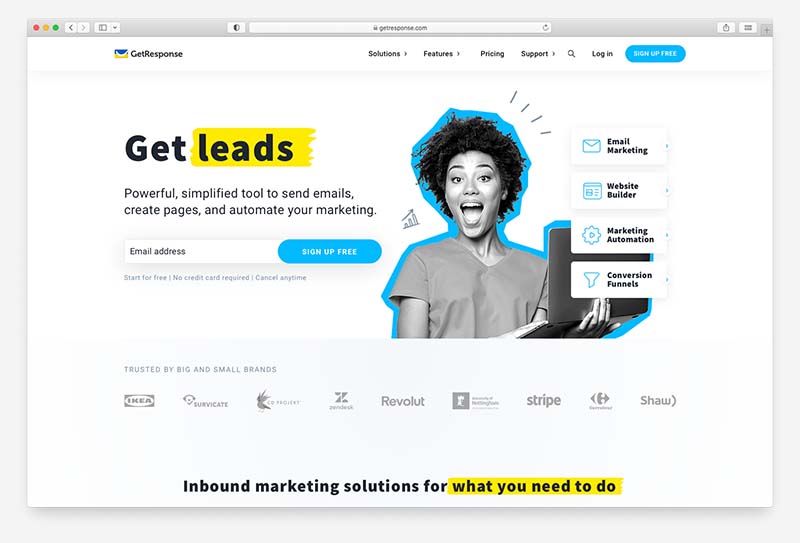 AWeber is a marketing software tool focused on small businesses. Founded in 1998, it allows customers to create effective email marketing campaigns, landing pages, signup forms, and more. Its features also include reporting and analytics capabilities, templates, automation, and more.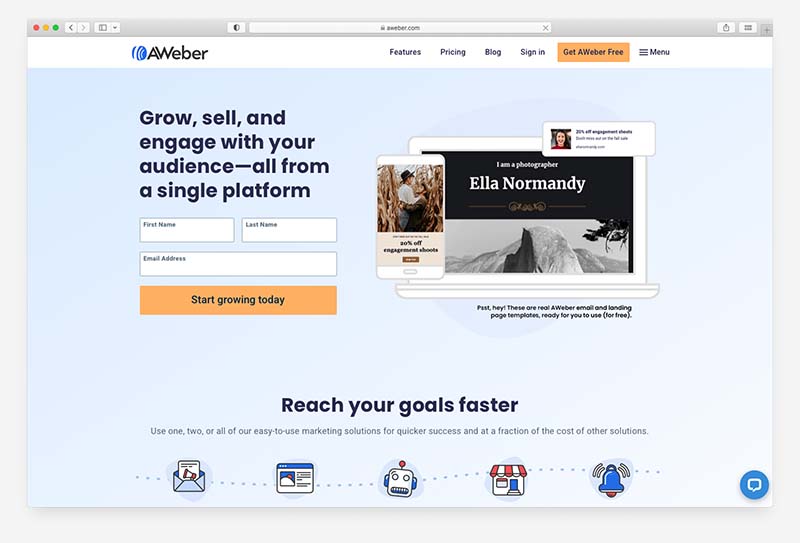 1- Deployment and ease of use
Email marketing software is all about facilitating ease of use at scale. If your mailing list is growing steadily, the last thing you want to be doing is manually build up and manage your contact database.
It's also vital you feel comfortable with the tools you use. Both tools are designed to be used by sales and marketing teams with minimal involvement from IT. Being SaaS offerings, they're also proactively maintained and updated by their vendors.
GetResponse provides a user-friendly, wizard-driven interface from the moment you first log in. You can import a CSV file with your existing contacts or add them manually. For the sake of compliance, it also asks you if you have permission to add the contact to your mailing list.
GetResponse's Quick Actions interface lets you create forms, newsletters, landing pages, autoresponders, and contacts lists at the click of a button.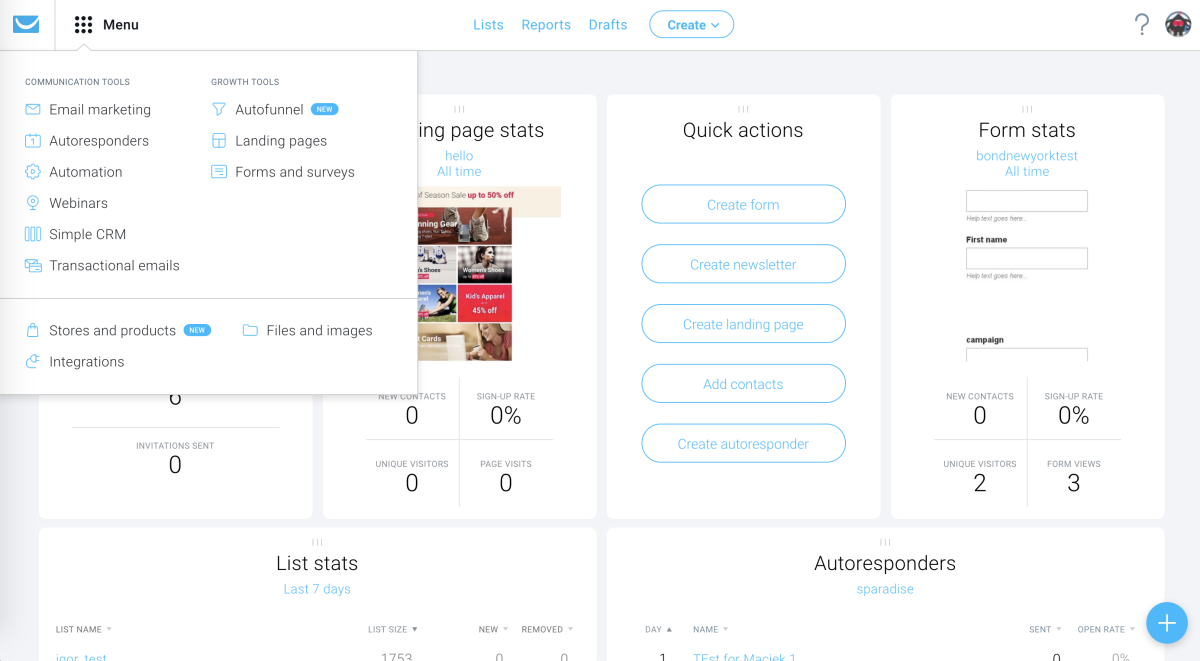 Additionally, you can create custom fields such as telephone numbers and demographic information. GetResponse is also advertised as being an all-in-one marketing platform, so it provides a richer range of options in its dashboard than AWeber. At the same time, this can be overwhelming for some users.
The AWeber dashboard also provides a clean and simple overview of your subscribers and recently sent newsletters, although being solely an email marketing tool, it's not quite as comprehensive as GetResponse.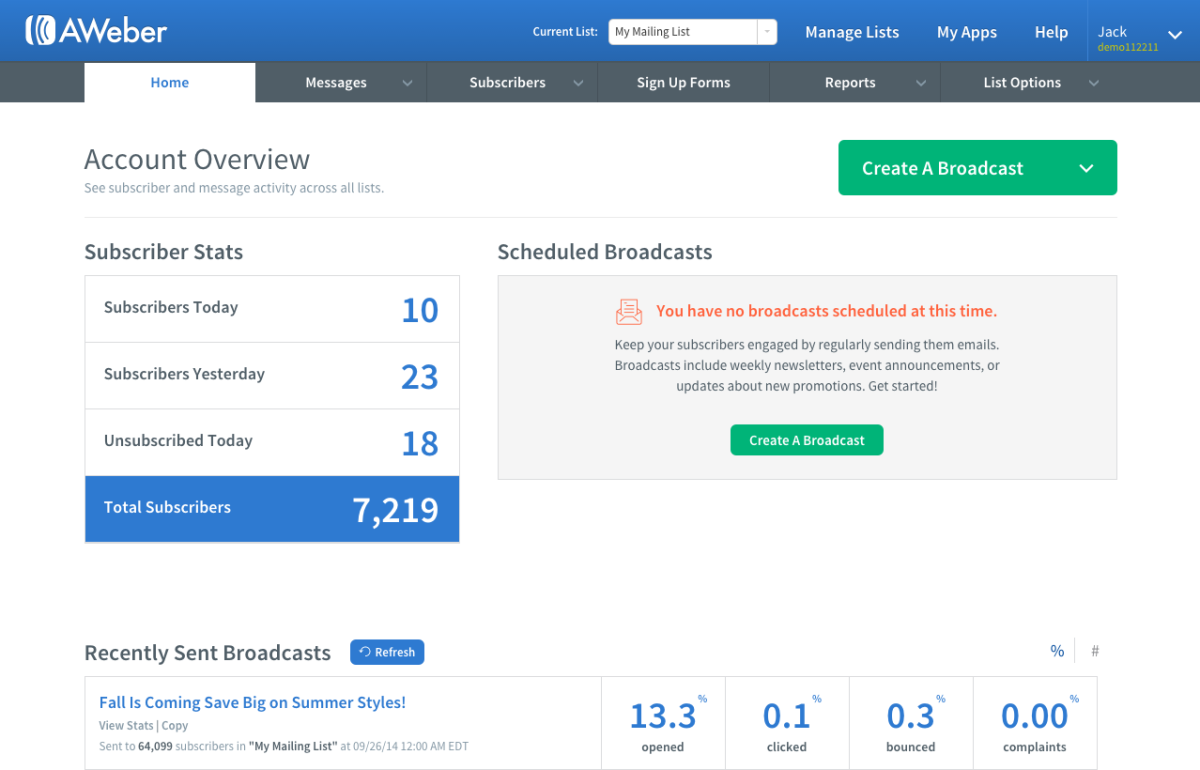 2- Templates and design
Another key function of any email marketing platform is the actual design of your newsletters and automated messages. Both products offer a wide range of categorized templates, all of which are fully customizable to suit different industries and business needs.
GetResponse ships with around 500 templates, while AWeber has around 700. They also provide templates for landing pages and forms, with GetResponse providing a straightforward landing page creator straight out of the box, complete with a drag-and-drop interface.
All templates provided in each platform are fully responsive too, meaning they automatically scale to the type of device they're viewed on.
Here's a glimpse at the AWeber email editor: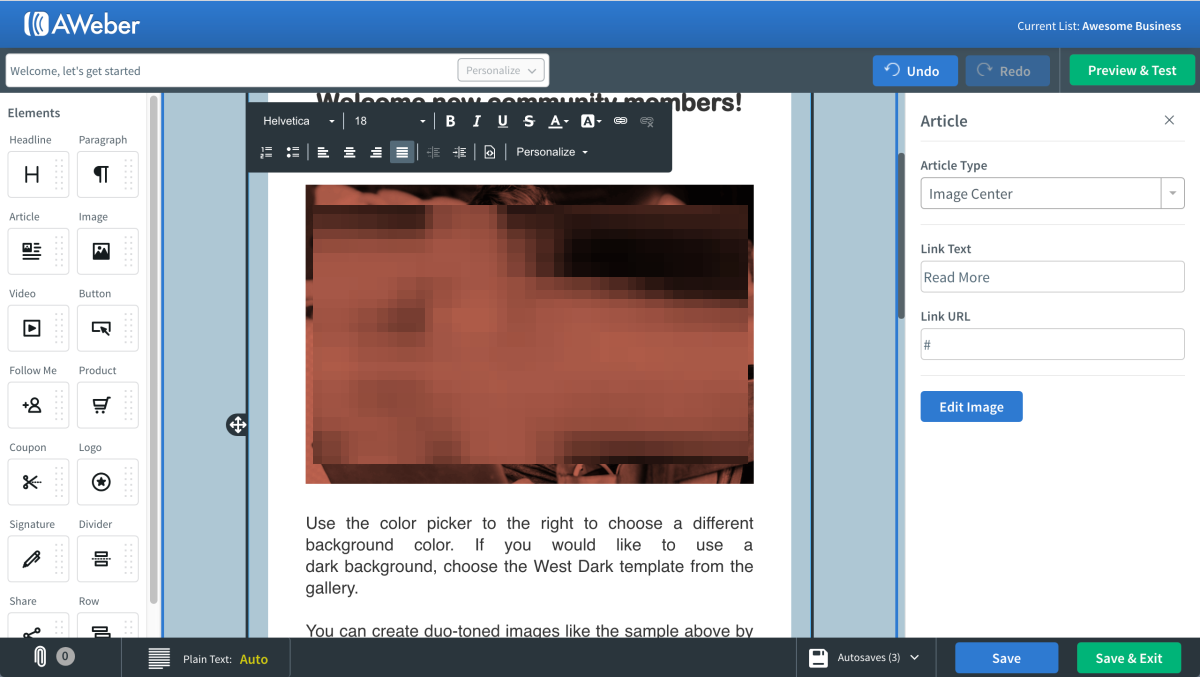 And here's the GetResponse email editor: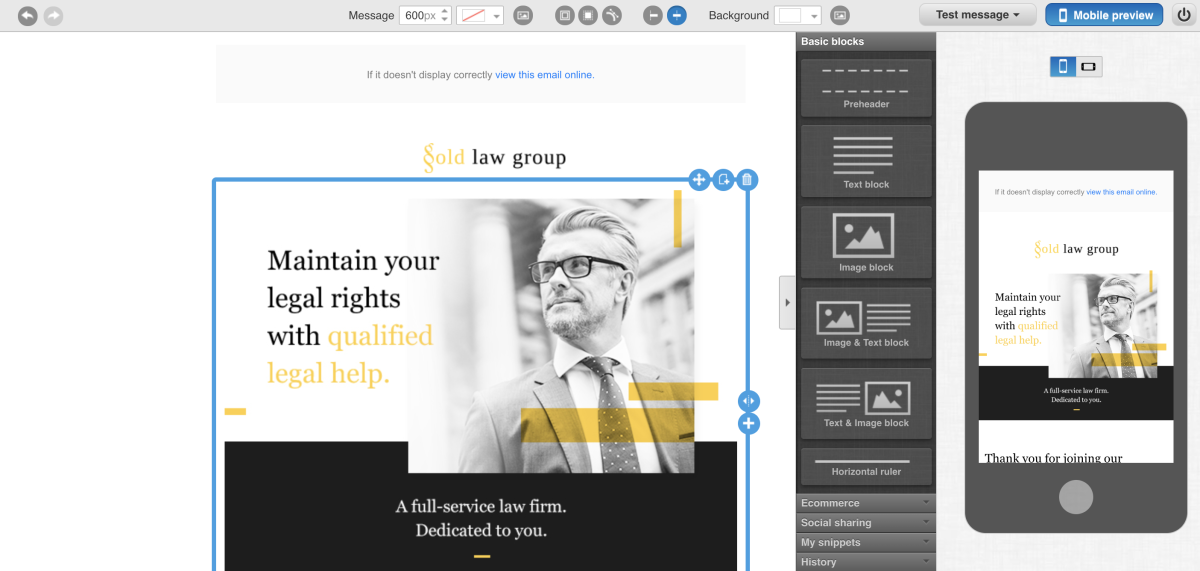 GetResponse recently had some issues with emails not displaying correctly in the Gmail app, but these have been resolved with a new email editor.
Two other important design considerations include web fonts and accelerated mobile pages (AMP). Many emailing tools, including web-based ones, support the use of web fonts, which can help designers choose fonts that more closely match the branding they use on websites.
Until recently, both platforms were fairly restrictive in this respect, allowing you to use 'safe' fonts only, such as Times New Roman and Arial. However, the new GetResponse editor lets you choose from hundreds of Google fonts, while AWeber is still relatively restrictive.
3- Automation
With business workflows becoming increasingly complex, it's never been more important to automate repetitive operations, and there's no shortage of those in email marketing. One of the most important features in any email marketing platform is the autoresponder, which lets you automatically send emails to subscribers when certain actions are taken.
For example, if someone signs up to your mailing list, you'll probably want to onboard them with a welcome email, while the flow of marketing newsletters may commence a few days later. Both AWeber and GetResponse provide extensive autoresponder functionality based on the triggers which are most important to your business.
GetResponse is the more sophisticated of the two when it comes to automation, since it allows you to create automated customer funnels with predefined but customizable sequences that incorporate landing pages, forms, sign-up pages, and more. You can also create entire email campaigns using the drag-and-drop interface.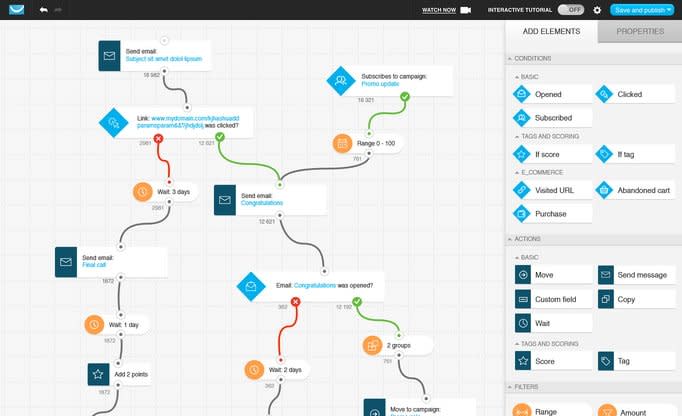 AWeber is much simpler in regards to marketing automation, with a stronger focus on nurturing audiences rather than growing your mailing list: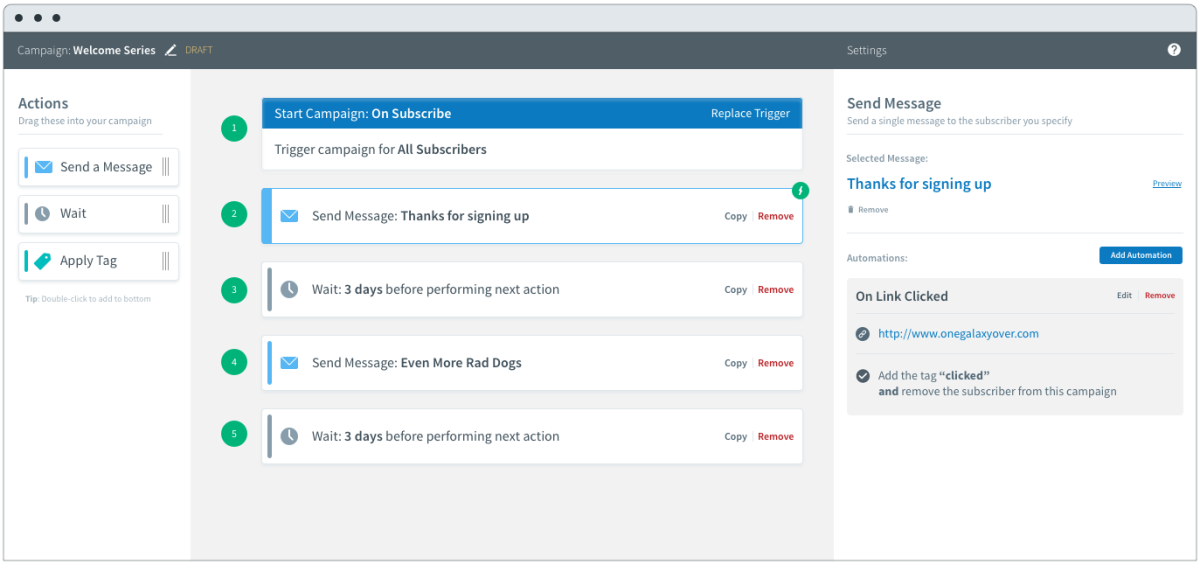 4- Reporting and analytics
No email marketing solution would be complete without detailed reporting and analytics to track your progress and optimize your campaigns based on data-driven insights.
AWeber and GetResponse let you track key metrics like open rates, click rates and unsubscribe counts in a conveniently visualized format. GetResponse offers more customization options with its reports dashboard, letting users choose from a selection of chart and table formats.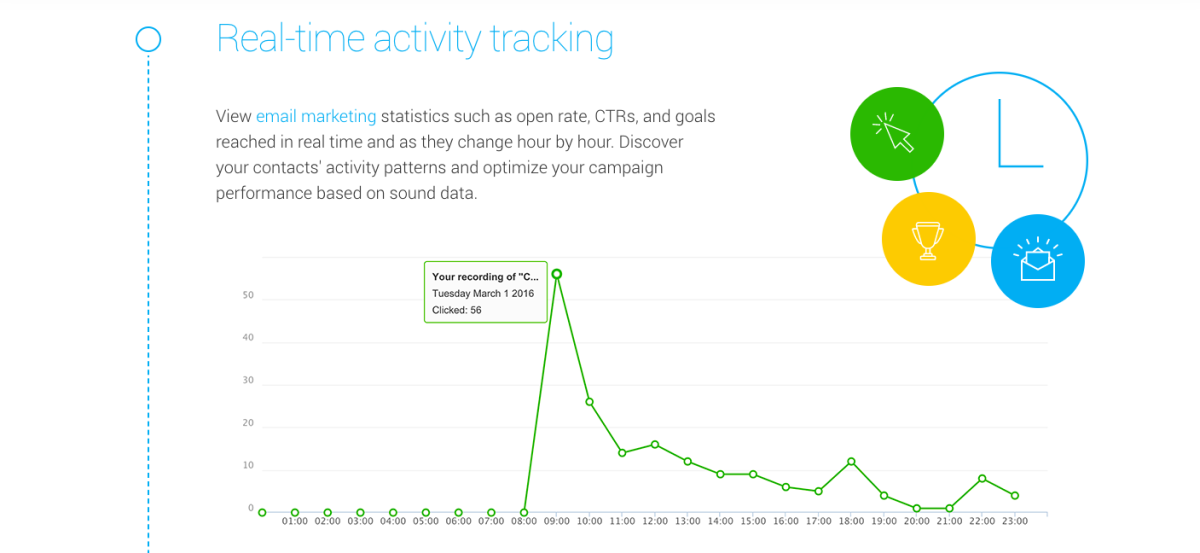 Another benefit of GetResponse is that it integrates seamlessly with Google Analytics, allowing you to combine your SEO reports with your email marketing metrics.
AWeber also provides a rich set of business intelligence features, which are powered by pre-built reports that deliver actionable insights into your campaigns. These reports contain various key performance indicators (KPIs) and are presented simply enough that anyone can interpret and understand them. AWeber also has a mobile app that lets you keep track of campaign results on the move.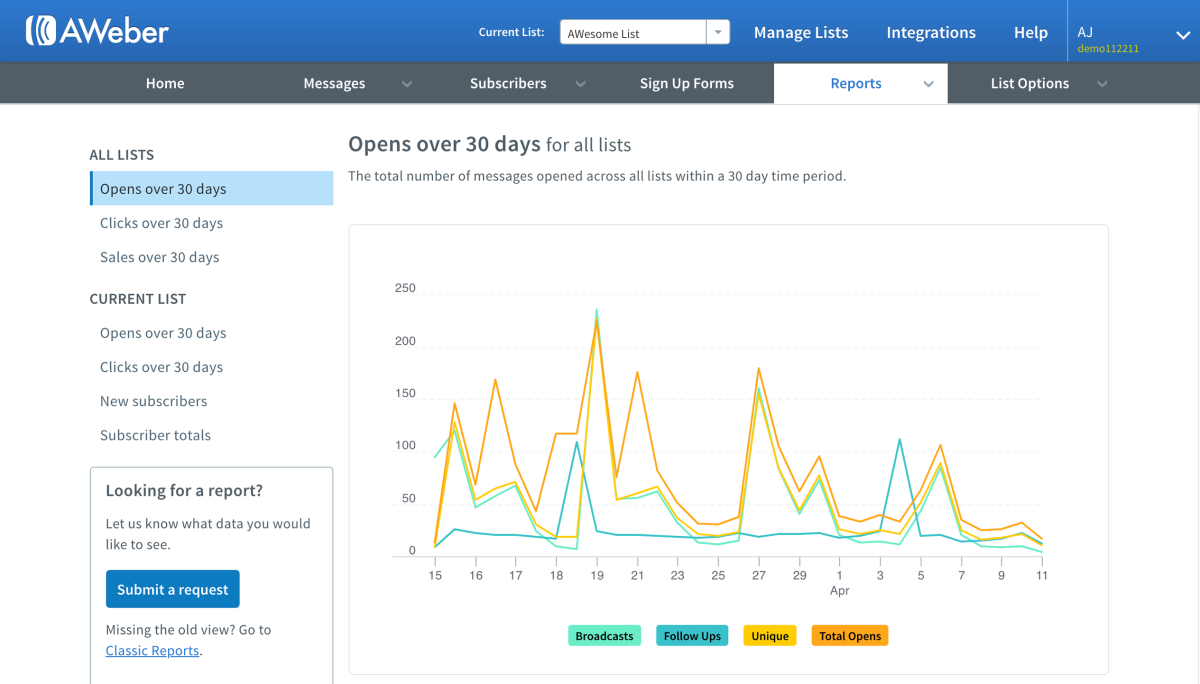 5 - Scalability and pricing
Finally, we come to pricing. Although this should be secondary to functionality in your decision-making, it can be a make-or-break issue for smaller businesses on a budget. As SaaS platforms, GetResponse and AWeber are subscription-based offerings with various service tiers, which vary in price depending primarily on the size of your mailing lists. Both options offer a free trial.
GetResponse starts at $15 per month for the Basic edition, $49 for the Plus edition, and $99 for the Professional edition. These prices apply to list sizes of up to 1,000, with rates rising to $450, $499, and $580 for up to 100,000 subscribers.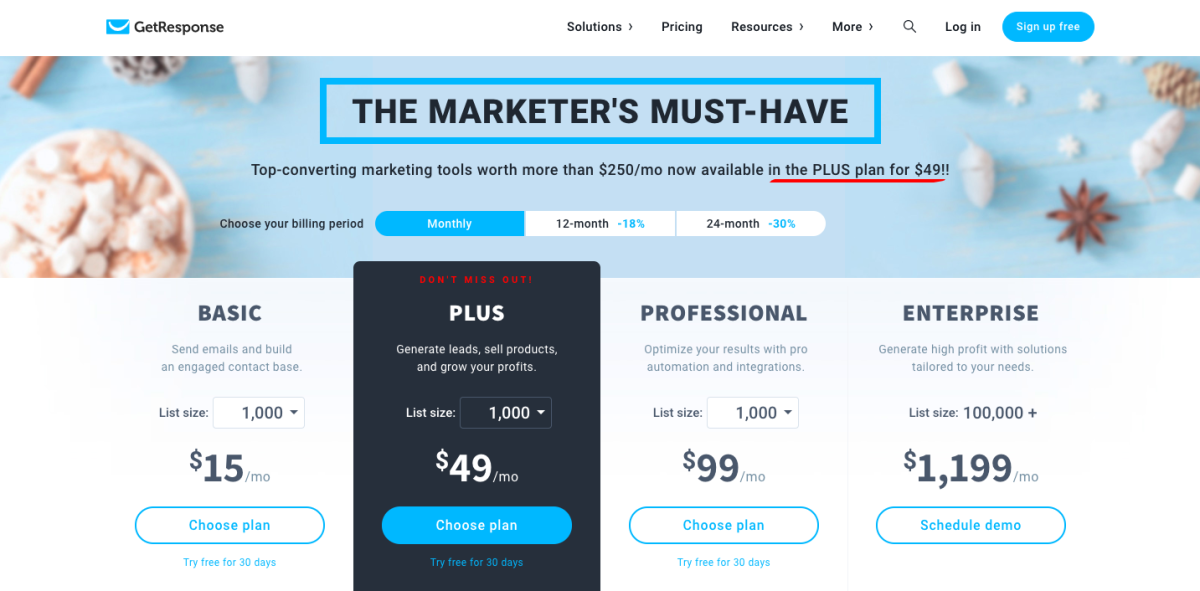 For large enterprises with over 100,000 subscribers, there's an Enterprise package, which includes all the features and unlimited list sizes, for $1,199 per month.
AWeber starts at $19 per month for up to 500 subscribers, increasing to $149 per month for up to 25,000. You can also save money by making a quarterly or annual commitment. If you have more than 25,000 subscribers, you'll need to request a quote.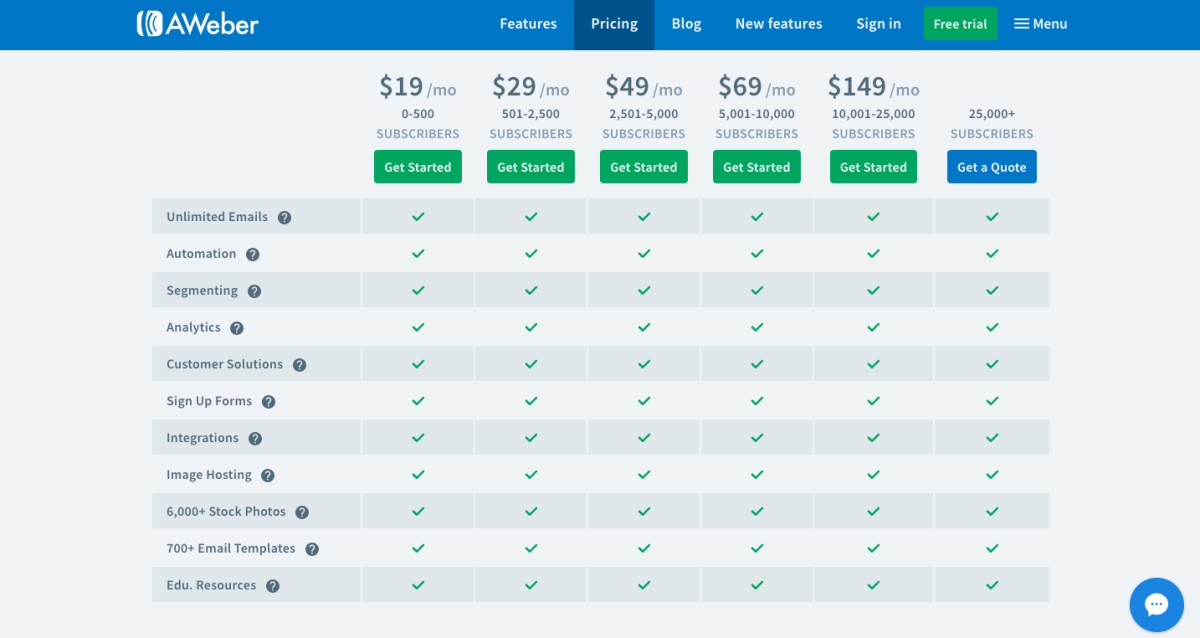 Here's our quick summary of when to choose GetResponse vs. AWeber as your email marketing tool:
When to choose GetResponse
You have a mid-size to enterprise-level business, or a smaller business needing more advanced features
You're looking for all-in-one marketing software
You want detailed analytics, lead management, and CRM functionality
You're interested in paying more for enterprise-level advanced features
When to choose AWeber
You have a smaller business with simpler requirements
You want a dedicated email marketing tool
You want more email templates, phone support, and perfect compatibility with AMP and the Gmail mobile app
You want access to all features, no matter which subscription package you choose