Nextiva Review : The Good and The Bad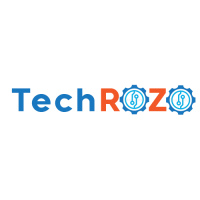 Mohammed Belkharraf
• 540 days ago
• 9 min read
---
Nextiva offers VoIP phone service plans suitable for businesses and call centers ranging from small to large. The phone service is highly reliable and efficient and you get useful features beyond voice calling on every plan. Nextiva also offers platforms for sales, service, and remote workforce management. It's one of the most versatile VoIP service providers and, thanks to the many plans available, it's an ideal choice for most businesses.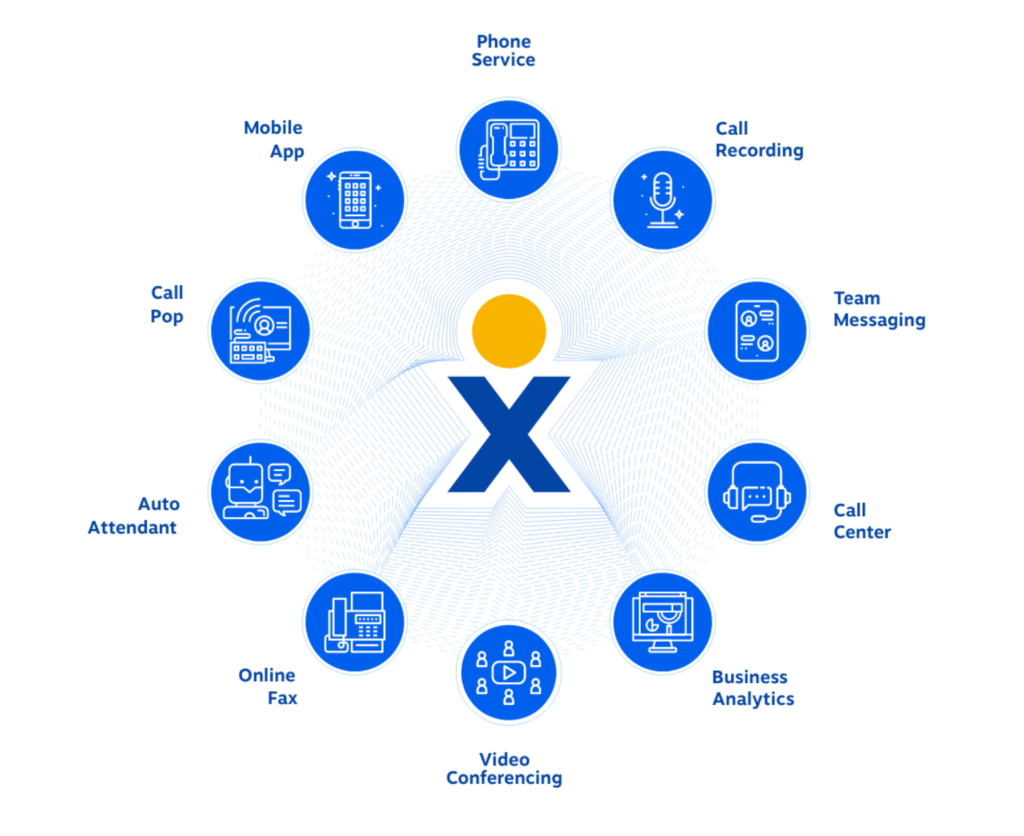 Compare Nextiva to The Best VoIP Phone Services
When it comes to versatility, Nextiva wins out over other VoIP phone services.
Suitable for everything, from small businesses with just a few users; to large enterprises with many departments.
Nextiva delivers a suite of services that rivals anyone else in the space. You can wield the platform and its features to help with client relationship management, remote work, call centers, and more.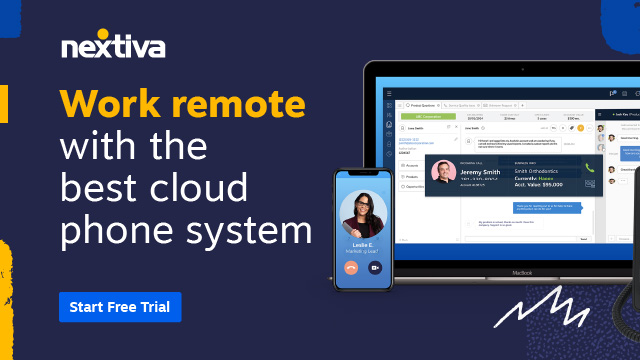 While there are plenty of benefits to Nextiva, there are also plenty of other VoIP phone services to choose from. Our review of the best VoIP phone services highlights all of the information you need to know about each option. We thoroughly researched each service to determine what type of business or situation it's best for.
Nextiva: The Good and The Bad
Nextiva is more than a standard VoIP service. It's an all-in-one business communications provider, complete with video conferencing, team chat and collaboration tools, faxing, and much more.
Highlights of the phone service include a 99.999% uptime and 24/7 customer support. Call porting allows businesses to use their current phone numbers (in most cases).
The business phone plans include more than 45 features for enhanced performance and ease of use. Unlimited nationwide calling, voicemail-to-email, free phone numbers, and online faxing can support businesses of all sizes. Nextiva also migrates existing business plan phone numbers for free.
Businesses can choose to use their current VoIP phones or buy or lease phones from Nextiva. All Nextiva phones come pre-configured, allowing for instant use.
An array of sales and service tools are designed to support sales, marketing, and customer service teams. Call pop, for example, instantly display the essential information for each customer as they call, facilitating more effective calls. There's even a built-in CRM that holds it own against other standalone solutions, meaning you can truly unify your customer-centric efforts.
The Nextiva mobile app for cell phones and desktops ensures that employees can stay connected no matter where they're located. Nextiva even offers Cospace, a remote workforce management tool that can replace other third-party apps like Slack.
In short, Nextiva serves as a centralized, all-encompassing business solution. A business that chooses Nextiva will enjoy a whole host of tools and programs that work together efficiently. There's no need to worry about integrations and jumping back and forth between different platforms throughout the workday. This can also make for financial savings.
Nextiva's pricing structure is somewhat complicated, and its prices are higher than standard (but more basic) VoIP service. Businesses may save money by carefully monitoring their number of users and opting for longer contracts, which carry lower charges.
The Good
Highly Reliable Service: Nextiva reports a 99.999% uptime and states that the service had no reported outages in 2019 or 2020. This uptime rate is impressive, and the lack of outages indicates that Nextiva offers the performance and reliability that businesses demand. VoIP service outages mean lost profits and leads for businesses, so Nextiva's reliability is an encouraging benefit.
Excellent Customer Support: Nextiva offers 24/7 customer support, ensuring a business will never be without assistance, so issues can be promptly addressed. This customer support comes standard with even the lowest-priced Essential plan.
Quality Training: Not only does Nextiva offer training to help employees learn the technology, but it offers that training in multiple forms. A business can opt for on-premises, one-on-one training for a highly detailed experience. Alternatively, a company can choose to complete training webinars, receiving that same detailed guidance via a remote delivery.
Cospace: Rather than rely on tools like Slack, Nextiva users can enjoy Cospace. Designed for remote teams, this workplace management tool keeps team members connected and includes screen sharing, messaging, file uploads, and more. Team members can stay connected and engaged with Cospace throughout the day for increased efficiency.
Service and Sales Tools: Beyond basic VoIP service, Nextiva offers valuable service and sales tools to help businesses streamline and improve their work efficiency and quality. Service tools like Call Pop instantly provide essential caller details on the computer screen as a call comes through, preparing the service representative to have a quality, efficient conversation. Sales tools like the Sales Pipeline CRM keep important details in a central location, allowing teams to work together to ensure leads receive proper follow-ups, increasing their conversion chances.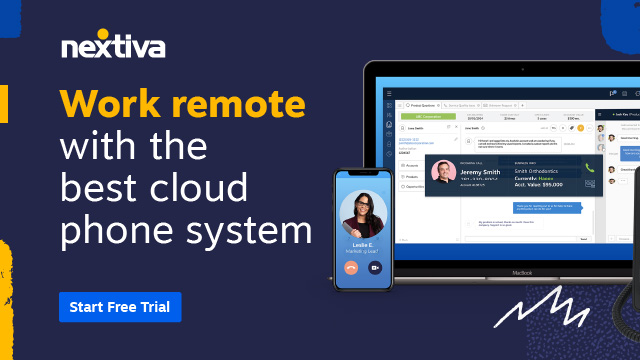 The Bad
Higher Price Point: While Nextiva does offer highly comprehensive services, it is more expensive than some other VoIP services. If a business only needs a basic VoIP service and none of the extra bells and whistles, another provider will save money.
Somewhat Complicated Pricing: The price of each Nextiva plan fluctuates depending on the number of users a business has. This can complicate the plan pricing structure. Many services are also available as add-ons with their pricing structure, so businesses interested in Nextiva may want to reach out for a customized quote.
High-Priced Annual Plans: Nextiva plans are billed monthly or annually. The monthly plan options are significantly more expensive than the annual plans. Signing a contract for 12, 24, or 36 months can help a business save additional money, but it requires a longer-term commitment.
Nextiva Pricing and Options
Nextiva offers four package levels suitable for a smaller business' more basic needs all the way up to the sales productivity and ticket management features that would benefit a larger enterprise. Plans are suitable for smaller teams as well as much larger operations. They also run special deals frequently so you can save on their normal pricing below. Click here for the current deal.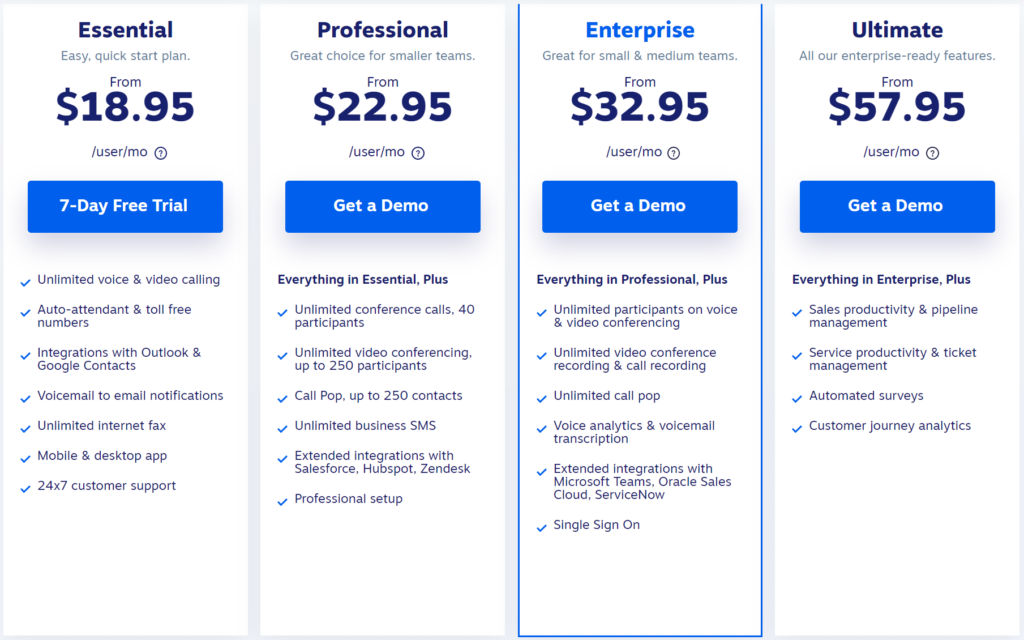 The package pricing reflects a per-user, per-month cost, billed monthly or annually. That pricing increases for smaller teams, while larger teams see a lower per-user, per-month cost. For example, the Essential plan costs $23.95 per user per month for teams of one to four, billed annually. Teams of 100 or more are offered a more affordable rate of $17.95 per user per month, billed annually.
These plans offer a decent value for the cost. Even the Essential plan includes more advanced features like voicemail to email notifications and a mobile and desktop app. Pricing tiers start at one, five, 20, and 100 seats, so business owners will want to review the pricing structure carefully. A business that just meets the required seat numbers for the next higher plan can get the best value out of a Nextiva plan.
Nextiva Essential Pricing
The Nextiva Essential plan delivers everything a smaller business needs to get started. In addition to more basic features, like unlimited voice and video calling, the plan has perks like voicemail to email notifications and 24/7 customer support.
The Essential plan is ideal for smaller businesses just getting started with VoIP or those looking to switch services from another provider. It delivers the essentials and more at a price that's practical even for startups and small operations.
Nextiva Professional Pricing
The Nextiva Professional plan is designed for smaller teams but offers more versatility than the Essential plan. Highlights include unlimited conference calls with up to 40 participants and unlimited video conferencing with up to 250 participants.
This more comprehensive plan also includes a professional setup, and its integrations with platforms like Salesforce and Hubspot make it a practical choice for sales and marketing teams. It offers a powerful array of features for the price.
Nextiva Enterprise Pricing
The Enterprise plan is designed for small and medium teams. It offers the same features as the Professional plan and includes valuable add-ons like unlimited video conference and voice recording with unlimited participants.
This plan offers features integrations with Microsoft Teams, Oracle Sales Cloud, and ServiceNow, making it a more versatile and streamlined option. Nextiva notes that the Enterprise plan is its most popular plan, and it's easy to see why. The enhanced functionality offers time-saving and automation benefits valuable for larger teams.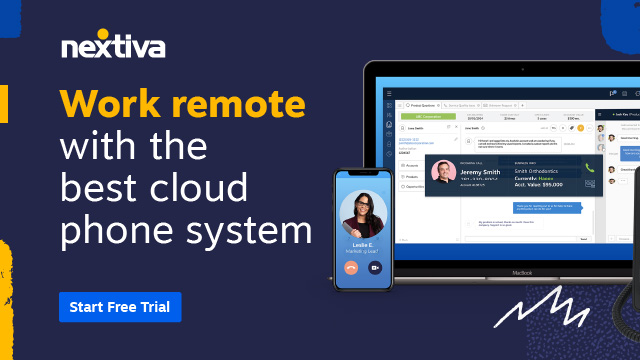 Nextiva Ultimate Pricing
The Ultimate plan is ideal for large enterprises. It offers all of the other three plans' features, plus sales productivity, ticket, and pipeline management.
The Ultimate plan is the most expensive option, and it really doubles as a sales and marketing tool. It's ideal for large teams with significant sales and marketing needs.
Nextiva Small Business Solutions
Nextiva's small business solutions come bundled as an all-in-one package, or a business can pick and choose different service elements. The ability to select just the services needed makes Nextiva a highly versatile option that's truly suitable for most small businesses, no matter how basic their needs or how small their budgets.
Phone Service
The Nextiva phone service comes equipped with plenty of features ideal for most small businesses. Text messaging, voicemail to email processing, call queuing, and unlimited calling mean this service meets most small business needs. The Nextiva auto attendant feature can make for easy call routing, and automatic call forwarding ensures efficiency for your business.
Communication App
The Nextiva desktop app or Android and iOS app allow users to work from any location and increase productivity. Users can call, conference, chat, video, and share screens with the app, whether on a one-on-one or a group call.
The app condenses all of your essential communication tools together, so they're at your fingertips whether you're on the go or at your desk. You can easily switch between the desktop and the mobile app, so your communication tools travel with you throughout the day.
Comparing The Best VoIP Phone Services
If you'd like to consider other options, be sure to read our full in-depth review of the best VoIP phone services.
Nextiva – Best VoIP phone service for most businesses
Ooma Office – Best for businesses without in-house IT
RingCentral – Most affordable all-in-one solution for fewer than 20 users
Grasshopper – Best mobile app for solopreneurs and small teams
Phone.com – Best if you need fewer than 300 minutes/user
Freshcaller – Best for customer support teams
Nextiva offers a modernized, highly reliable phone service that goes far beyond the typical offerings of a VoIP service. With options like a CRM, the communication platform Cospace, a call center, and more, Nextiva helps businesses upgrade all operations elements for streamlined productivity and overall improved performance. Suitable for both small businesses and large enterprises, Nextiva is a one-stop shop for communication, sales and marketing, and customer service needs.